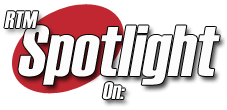 Yamato Batman
Action Figures
Series 2
click to see larger version
This Spotlight is brought to you by the letter C, for Casimir.
The second set of Yamato Batman figures (Batman, Poison Ivy, Penguin, and the Riddler) are fine additions to any Bat-fan's shelf. Excellent character likenesses and selection make this series a real stand-out. Like the first series, these are essentially statues, but fit in reasonably well with similar figures. Technically, the scale is somewhat smaller than the Mattel Batman line (which is smaller than most DC Direct figures). Despite this, these figures hold their own when compared to their plastic cousins. Riddler (who is crouched) and Penguin especially seem unphased by the scale issue.
For the most part, the paint applications are excellent across the board. The three villains feature strong facial detail. Penguin and Riddler show off some fine washes in their faces and teeth, and Ivy's "make-up" and hair is top notch. Even Batman has a slight black wash over his mask, reminiscent of a 1950s style Batman. The sculpts really capture the essence of each character as they were depicted in comics through most of the 1990s. Each figure comes with a character specific base and accessories: Ivy has vines, Venus fly traps and a perfume/chemical bottle; Penguin carries his trademark umbrella and a small rubber ducky; Riddler features a removable hat and his cane; Batman sports two right arms, each with a different fold of cape.
Click on a picture below to see a larger version of the size comparison pictures.

Batman

Poison Ivy

Penguin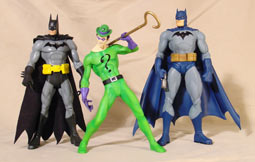 The Riddler
Compared to series one, Yamato made some definite improvements. Batman's cape is not at all tacky, the sculpts and paint are generally more accurate, and all the base parts assemble easily and securely. The only evident flaw is in Ivy's base. It's a weaker plastic that doesn't support her weight, and she tends to fall backwards. Fortunately, he hair is so big she leans against the base wall without being obvious.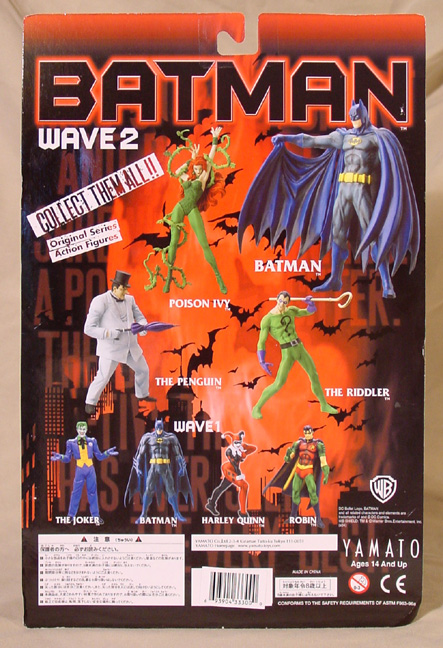 Overall, these are fun figures, even if they are just statues. Given that most statues offer similar quality at $50 a pop, these are a bargain!
Click to see more pictures of Batman
Click to see more pictures of Poison Ivy
Click to see more pictures of Penguin