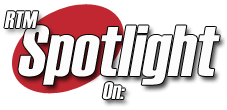 Unreal Universe
Action Figures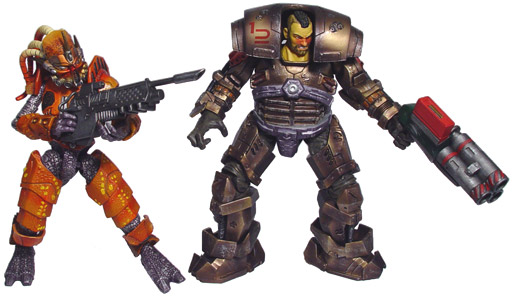 Video games have been a fertile ground for cross-pollinization into other media. There are comic books, prose novels and movies inspired by games, some more successful than others. Another area is toys, and though there have been video game toys for years, it seems only lately have there been companies that were geared towards this market specifically. The latest company to enter the fray is Radioactive Clown with figures based upon the Unreal video game series.
If you've been following the news over the last few years, you've heard of Radioactive Clown but until recently they could be called vaporware. Yep, they had an ad in ToyFare in Feb 2002, they've been showing prototypes since then and promising cool figures from Rune and Unreal. Just like Duke Nukem 4, another good Batman movie, and cold fusion, it seems that they were right around the corner, but never delivered. That changes now, with the first set of figures hitting stores based on the one of the hottest first person shooters around - Unreal.
The first license Radioactive Clown is bringing to the public is based upon the mega-popular game series Unreal, a franchise that includes five games with a sixth due later in 2003. The games have made the jump to consoles, but the true heart of these games beat upon the PC, the best platform for first person shooters. Unreal and Unreal 2 are both more story oriented, with deep plots that drive the story forward as the player works his way through the various levels maiming, killing and destroying while trying to save the universe. The Tournament game series is about one thing - competition, skipping the story and moving straight to deathmatches. It lets players do what they really want to do - kill each other, and prove their dominance in a very alpha male way - with high tech weapons.
The first two figures for the Unreal Universe series are based upon characters that appear in Unreal Tournament 2003/2004 and Unreal Championship with a third - Domina - on the way in the future. Out of the gate the first two characters are Damarus and Gorge. Gorge has been the poster boy for Unreal Tournament (and birth control) and if you've seen any advertising or literature for Unreal Tournament 2003, you've seen him. He looks much better in the scope of a lightning rifle, trust us. The figures are scaled roughly to the six/seven inch scale with Gorge being just over seven inches tall.
These are the first commercial figures from Radioactive Clown, and they are impressive. They have great sculpting and paint applications, good articulation and they look cool. With the level of quality seen here, especially compared with some of the other companies around, Radioactive Clown has come to play. Hopefully we won't have to wait too long for the next figures!
Gorge isn't your typical guy, he's actually a product of genetic engineering and a good argument against it. Gorge grew up in the Allerian Penal Colony (that means prison you sickos), where he grew to revel in the squalid and hard life. Once he grew up, or rather got older, he found that the life of the tournament fit his personality - crude and cruel. It's always nice to enjoy your work, and Gorge does that. He's usually encased in a suit of powered armor, and while he isn't the fastest player, he packs a mean punch as he prefers the big guns.

The weapon that has Gorge's seal of approval is the Trident Tri-Barrel Rocket Launcher™, available at fine weapon stores near you. It has three barrels for shooting multiple warheads, and is back loaded so you can keep a high rate of fire. What comes out is simply exploding death, so you won't want to be even close to where the rockets end up. Now if only Gorge would travel to Iraq they could easily find a WMD.

Gorge is the taller of the figures (at over seven inches), and the heavier. He isn't as articulated as Damarus, but he does have the added feature of shoulder armor that can be pulled back via an articulated armature on the back. He can leave it up for battle and then drop it down to take a break and get out of the armor. His armor is riddled with the scars from previous battles, and that's because he wears them as badges of honor, and he never changes his clothes! He comes complete with a rocket launcher (though the launcher seems a little too small for scale) that fits into the left hand. Unfortunately he can't hold Damarus's shock rifle, but he doesn't need it if he's got a rocket launcher!

Articulation:
Neck (ball joint)
Shoulders (ball joints)
Elbows (bends)
Wrists (twists)
Waist (twist)
Thighs (ball joints)
Knees (bends)
Ankles (ball joints)
Damarus hails from the Mobeth tribe of the Gen Mo'Kai where he's the son of their leader Gik Ma. Being the leader's son might mean a life of pampering for some, but Damarus won't have any of that and he's dedicated his life to winning the tournament. That and hooking up with a very hot Gen Mo'Kai girl that he can take home to daddy. Quick and agile, this guy is more about making the finesse kill rather than overkill with heavy weapons. Still, a kill is a kill.

To help out in the tournament, Damarus tends towards the finer things in life, one being the ASMD Shock Rifle. The nice thing about the shock rifle, beyond the compact and light design, is the wonder of two firing modes. Normally the rifle puts out a photon beam, used for making Swiss cheese and burning irritations, like other players. The secondary fire mode for it is a charge of seeded plasma, which comes in very handy when making a combo with the primary weapon. Once the plasma ball goes out if you shoot it with the photon beam, the plasma explodes. When you explode it near a competitor you have an instant combo meal. Yum!

The 6.5" Damarus figure has some great things going for it. The chest joint is similar to the joint on the Marvel Select Black Widow figure, and this lets Damarus lean forward and back in an aerobic workout. There are also multiple materials used on the figure, using harder plastics mixed with softer, more pliable ones. The 'hair' and spikes on the mask are softer than the rest of the figure, and the hands are similarly softer which aids in holding the gun. And speaking of guns, included is a shock rifle, useful for making perforations in your enemies, especially when playing instagib games.

Articulation:
Head (ball joint)
Neck (twist)
Shoulders (ball joints)
Bicep (twists)
Elbows (bends)
Wrists (twists and bends)
Chest (bends forward and back)
Waist (twists)
Thighs (ball joints)
Knees (twists)
Ankles (ball joints)
Credits
You can thank Epic Games and Digital Extremes for the Unreal Games, but it's the toys we want to know about today! Radioactive Clown was able to convince Steve Kiwus and Eight Ball Studios to sculpt the first three figures - Gorge, Damarus and Domina. Steve's work is well known in the industry, especially in several lines for Toy Biz (Spider-Man Classics, Lord of the Rings and Marvel Legends) and Diamond Select (Marvel Select). To make is nice and spiffy, Nuclearview Design Company created the package design and the good people of China made these toys.
Pictures of Gorge
Where to buy Unreal Universe action figures: No need to go to another universe to get these toys when you can go to either Electronics Boutique or Suncoast video to get some of your own. And if neither store is nearby, they have them for sale at EBgames.com so you can stay home owning other players while playing online.