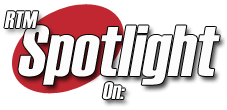 Super Hero Cthulhu Plush
At first glance, the creatures of H.P. Lovecraft and the world of plush toys don't seem like a match. You have horrific prose on one side and bright and cheery fun on the other, and they seem to mix about as well as oil and water. But just like chocolate and peanut butter, two things that work perfectly alone can be combined to make something both different from the originals and still enough like them to keep the same appeal. Toy Vault plays the role of Reese's in this case, mixing ancient evil with furry plush to create fun and friendly versions of the Elder Thing.
Before giving Cthulhu his due, his father may need some introduction. Howard Phillips Lovecraft (usually shortened to H.P.) started life in Providence, Rhode Island. To say his early family life was eventful would be an understatement, as his father suffered a nervous breakdown and then died while Lovecraft was a child. He was raised by his mother, two aunts, but it was his affluent grandfather that encouraged weird tales in Lovecraft even though is interests included science and astronomy. When his grandfather died, Lovecraft was only 14 and his previous comfortable lifestyle took a turn for the worse as the family found itself with little money. This and other events in his life led to a nervous breakdown that prevented his graduation from high school. This led him into a life as a hermit, spending most of his time with his mother.
Eventually he emerged from his exile by attacking a popular author of the time in a method that might be called the first flamewar, predating the internet by a few decades. His scathing letters of critique, written in verse no less, brought his talents to the attention of amateur writing groups where he would find some acceptance. These groups ignited his interest and they inspired him to keep writing fiction. Eventually he married (and divorced) and watched his mother suffer a nervous breakdown (clearly a family trait) and ended up writing an impressive body of work. He died of intestinal cancer, but not before mentoring several other writers including Robert Bloch and Fritz Leiber.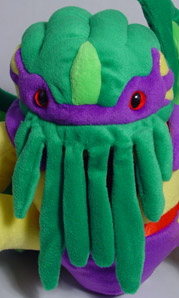 Among the stories that Lovecraft wrote, one that has captured many imaginations is The Call of Cthulhu. While much of the story just talks about the Cthulhu Cult, there is the harrowing tale of an ocean liner that came upon an uncharted island. Instead of finding seven castaways from the SS Minnow, they came upon the mysterious city of R'lyeh. The city is huge and at first seems deserted; though once they investigate they are unfortunately wrong. What the crew discovers is the dread Cthulhu, leader of the Old Ones from the stars who doesn't like to have his beauty sleep disturbed. Naturally, he kills most of the men and chases the ship, though it manages to slip away, sans most of the crew. What you take away from the story is that Cthulhu is gigantic, malevolent, and green with tentacles.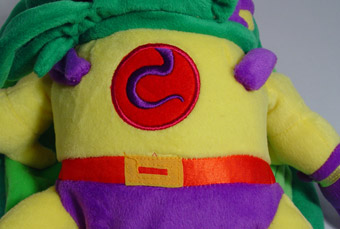 The story has inspired many people and has made some impact in popular culture. Metallica created the songs 'Call of Ktulu' and 'The Thing That Should Not Be' that were clearly influenced by Lovecraft. The hit video games Doom and Quake have a Lovecraftian flavor, mostly due to the work by Sandy Peterson who was also the author of the 'Call of Cthulhu' role-playing game. And beyond his actual friends, Lovecraft has inspired modern horror writers like Stephen King. Clearly, there are plenty of alumni from Miskatonic University that have found success.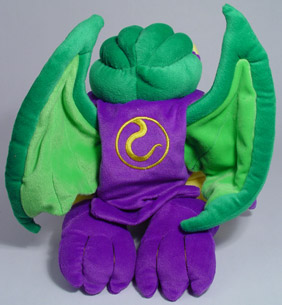 This imagined version of Cthulhu places the ancient one as a super hero. His attitude may lean more towards villainy though, or at least like Galactus in that he's above morality due to his sheer power and much higher standing in the evolutionary chain. However you want to classify him, you have to admit he's pretty darn cute. He's got a yellow outfit with purple highlights and a purple mask, to pointlessly hide his identity. You know he's Cthulhu, but he still tries to hide it! It's the tentacles hanging from his mouth that give it all away. And once he hits the streets, stand clear. He's mean and if you cross him, he'll turn you insane, kill you, or both.
Super-C is a big plush, ten inches tall when sitting and around fifteen to sixteen if he could stand. However, standing is one of those poses that require hand support because his legs are kind of floppy and plush, as you'd expect. For fun, pretend he's Professor X and watch how he can't walk! He does have a pair of plastic, cat-like eyes and the tops of his wings have a hidden wire inside to keep their spread pose, or make a new one. You just can't get over how cute this guy is, in a potentially evil and ancient sort of way. He does have a tag on his arm, but since he's not a Beanie Baby, cut it off and set the Great Cthulhu free!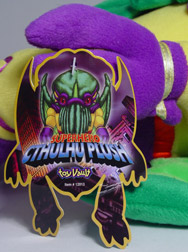 The Super Cthulhu joins a line of other plushes, mostly centering on himself. The original Cthulhu was a larger plush that has been made in a medium and now small scale of just the generic Cthulhu. From their artistic license has reigned, and a Santa Cthulhu and then a Gothic version were created. The follow up to that was a Summer Fun Cthulhu (perfect for the beach) and the Halloween inspired Dracthulhu. Not to be alone in his quest to haunt the plushes, a version of Nyarlethotep was added, for a little variety.
Where to buy the Cthulhu Plush: The Super Hero Cthulhu Plush retails for around $30 USD and is available through Troll and Toad.