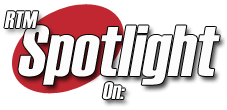 Armitage Action Doll
The two Armitage anime films are akin to Blade Runner, stories about an android who could pass as human. Androids are robots which are built to appear human, but in Blade Runner and both Armitage films, the androids in question appeared a little too human, so that most humans could not tell that the androids were not human.
Naomi Armitage is the title character of the Armitage movies, and she is a "third type robot," although it takes a good deal of screen time to learn what this means. Third types are capable of procreating with humans, and producing human offspring. This rather unique feature was developed on Mars to help counter the problem of under-population. In the first film, Armitage III: Poly-Matrix, Naomi is a police officer on Mars who is paired with Ross, a new partner from Earth who holds a grudge against androids. As the plot progresses, he learns that Naomi is an android and she learns that he has a good many cybernetic parts. Ross eventually drops his grudge and by the end of the film, the two are an item.

See the Big Picture
In the sequel, Armitage: Dual Matrix, we rejoin Armitage and Ross six years later, when they are married and have a (human) child. Circumstances lead Naomi to Earth, where she must face off with two very powerful enemies: clones of herself. The clones are not identical, however, as they lack her ability to reproduce. Their boss has sent them to capture Naomi so that he can learn how this secret ability of hers works. To learn more about the plots of these two films, please read our RTMisc review of the two DVDs.
Toynami has created a new category of collectible, the "collector's action doll." Doll collectors will have no trouble incorporating this kind of doll (cloth outfits, female characters) into their collections, and yet they also have action figure-like qualities (molded hair, weapons as accessories, high degrees of articulation) which will allow action figure collectors to display them alongside other action figures with no questions asked. These action dolls are between eight and nine inches tall, a bit taller than Mego action figures. The first two characters in this category are Naomi Armitage from Armitage: Dual Matrix and Lain in her schoolgirl outfit from Serial Experiments: Lain.
Getting to the obvious question: Naomi Armitage is an android, so of course "they" are fake. The android factory where she was made must have been a tad chilly. And yes, she has a navel. With all that out of the way... Armitage has a ball-jointed neck so that she can look up and down a bit as well as side to side. Her shoulders are ball joints, her elbows are double hinges, and her wrists twist. She has a waist twist and a mid-torso joint. Her hips are ball joints, her knees are double-hinged, and she also has ankle articulation. Her feet can flex up and down, but the softer material of her feet also allow for a bit of side to side movement if you remove her boots and stockings. Her joints are a bit loose, so you might want to display her using a doll stand.
Naomi's hair is molded rather than rooted, allowing for a better recreation of her hair from the anime than rooted would allow: the very dark roots and the lighter-colored ring or band around the top of her head.
She comes with her enormous handgun as an accessory, along with an extra right hand so that she can hold it. Both of her regular hands are open, so that she can wave at you but not hold the gun unless you switch her hand.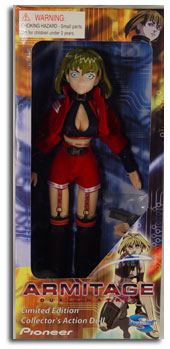 For what is at first glance a skimpy outfit, Armitage is wearing a fairly complicated mix of clothing. Shorts and a halter top, with a cropped jacket over the top. Knee-high boots with stockings that reach over the top of the boots. For modesty, the halter top is sewn on. The sleeves of the jacket reach just past her elbows, and what appear to be long sleeves reaching to her wrist are actually pieces which reach from her elbows to her wrists - the fabric matches her halter top, so that when the jacket is on, it gives the appearance of a long-sleeved top under the short-sleeved jacket.
Armitage's shorts are made from the same velour fabric as her jacket and have the same white trim as the jacket; the shorts close with a metal snap and have an elastic belt with a plastic buckle. Sewn into the bottoms of the shorts are brown garters which attach to her stockings with "hook and eye" closures. The stockings are the same fabric as the halter top. The garters are not elastic, so to remove them, you'll need to carefully wiggle the stockings up a bit to undo the hooks.
After the final battle in Armitage: Dual Matrix, Armitage has lost a good deal of skin on her shoulders and back. The doll reflects this: on her back and shoulders are paint details which show circuitry and internal android goodness.
The Armitage action doll is packaged in a small window box with same artwork as the DVD cover on the front and more images of Naomi Armitage on the sides and back. The back has a very short summary of Armitage: Dual Matrix and also has credits for the creative team who produced the doll.
More pictures of Armitage
Where to buy Armitage: The Armitage action doll is a limited edition of 3,000. It retails in the $16 to $25 USD price range and is available at comic book stores and specialty stores as well as various online toy retailers.

Several such online stores are RTM sponsors Big Bad Toy Store, NHAtoys.com, The Outer Reaches, and SweatyFrog.com. (Be sure to check the other RTM sponsors, listed on the Shop Center.)
On Amazon.com - Armitage: Dual Matrix (Special Edition) (dvd)