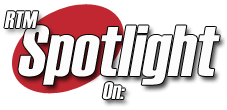 London After Midnight:
Silver Screen Edition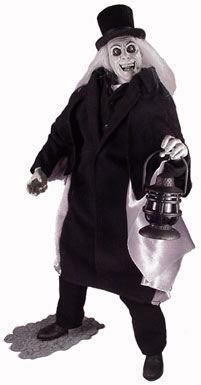 By choosing to make action figures from black and white movies, Sideshow Toy has the chance to make two versions of the characters: a regular version, showing the character as they would appear in "real life" (full color), and a monochromatic "black and white" version, showing the characters as they appeared on screen in the black and white films. Sideshow has no special name for the regular editions, but the monochrome versions are aptly named the Silver Screen Editions. (Here at RTM, we like to think of the regular versions as "colorized," but one of us is also a Braves fan, so the nod to Ted Turner shouldn't be a surprise.)
Lon Chaney, Sr. was a frequent face in horror films during the black and white era, and in London After Midnight, he had a double role, that of an inspector from Scotland Yard and a vampire. Normally we would explain a bit more about the plot at this point, but we haven't seen the movie. That sounds like laziness on our part, but in this case, there is a valid excuse: if you haven't already seen the movie, you will never be able to. The last known print of the film was destroyed in a vault fire in 1967. (Read more about the plot.)
At this point, you may be asking, "why make an action figure from a movie that no one can see?" Good question. RTM asked Tom Gilliland of Sideshow Toy that very thing in the Fall of 2001, in reference to the regular version of Lon Chaney as the vampire from London After Midnight. (Read the interview.) This isn't just an action figure from a film no one can see, it's an action figure of Lon Chaney in a classic role, a role which many horror fans would love to be able to see. Photographs and paintings of the vampire character have been floating around for decades, offering horror fans a glimpse at what is sometimes called the "holy grail" of lost films.
The packaging for the 12-inch London After Midnight action figure is a fifth-panel window box: the front flap has a dramatic photograph of Lon Chaney in character, with another photograph and credits for the film on the inside of the flap. The back panel of the box has a spooky image of the vampire, along with a summary of the plot of the film. (Read more about the plot.)
Being a Silver Screen Edition, the London After Midnight action figure is outfitted and painted in a monochromatic gray, black, and white theme. The vampire has long white rooted hair, although his hat is glued on to his head, so it's not possible to shake him and give him "troll hair." His body is molded in a flesh tone, but his head, hands, and forearms are painted in gray tones for the "black and white" effect. The vampire comes with a pebble-texture display base and a lantern.
The outfit's top layer is a black long-sleeved overcoat with an attached cape in the back and "bat wings" under the arms. The wings are made of a lighter-colored silky material and are attached along a seam from the wrists to the bottom of the overcoat. The overcoat has a few small stitches holding it shut so that it does not flop open in the packaging, but they are easily removed if you open the figure for display. The second layer is a sleeveless jacket and pair of pants with faux front pockets and a snap in the back. The jacket has miniature buttons for decoration, but closes with three snaps. Under the jacket is a layer which gives the appearance of a shirt and vest, but which is a one-piece dickey held in place with an elastic band around his chest. (While the action figure is one-sixth scale, the fabric is not, so if the jacket, vest, and shirt were all full pieces with sleeves, the figure would look too bulky.)
Mat Falls did the portrait sculpture for the figure (hands and head), and the Sideshow Toy Figure Team created the body and the accessories. The body is the "standard" 12-inch Sideshow action figure body, with the following articulation:
neck
shoulders (ball jointed)
bicep twists
elbows (double-jointed)
forearm twists
wrists (move in two planes)
chest
waist
hips (ball jointed)
thigh twists
knees (double-jointed)
lower-leg twists
ankles
More pictures of London After Midnight
Where to buy London After Midnight: The London After Midnight (silver screen) 12-inch action figures are limited editions of 3,500 each. It retails in the $30 to $40 USD price range and is available through Sideshow's online store and in specialty stores such as Suncoast and Spencer Gifts, as well as various online toy retailers.

One such online store is RTM sponsor Big Bad Toy Store. (Be sure to check the other RTM sponsors, listed on the Shop Center.)