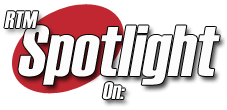 Space Channel 5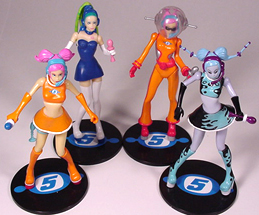 Space Channel 5 is a video game for the Sega Dreamcast system. The premise is that Ulala, a reporter for Space Channel 5, has been captured by aliens and must compete in a dance competition to save her fellow captives. Once she "defeats" the aliens in the competition, she must then "battle" again and again in other situations, including a dance against her rival Pudding (a reporter from Channel 42).
The characters are, in a word, cute.
The Space Channel 5 action figures from Palisades Toys are also cute: they are about 4 inches tall and the cardbacks are just barely larger than Star Wars cardbacks. The fronts of the cards are the same (a sticker on the bubble tells the character name) but the back of the cards are specific to each character, telling a little about them. Palisades also credits the sculptor on the bubble sticker and the development team on the back of the card.
This assortment has four "regular" figures:
Ulala
Space Dancin' Ulala
Pudding
Evila
There are also two variants: Space Dancin' Ulala without helmet and Space Dancin' Ulala with helmet but in a silver jumpsuit. (And for serious SP5 fans, Palisades has created a resin statue of Ulala and two aliens, which is an exclusive to Tower Records.)
Each figure is held in place by a single (yes, just one!) twist tie and the accessories have a piece of tape to keep them in the bubble.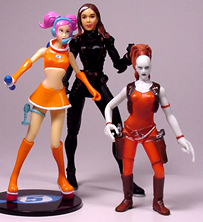 All four figures come with the same base/stand, which features the Space Channel 5 logo. As these characters are all dancers, with their legs sculpted in poses, it is easiest to display them using the stands. There are two pegs on each stand, spaced appropriately for each figure. Each of the four figures also comes with a microphone which fits into her hand, but which is not molded on. Another similarity among the four is that they all have ball-jointed shoulders to allow for a wider range of arm poses.
The Space Channel 5 action figures retail in the $5.99 to $6.99 USD price range and can be found at stores such as Suncoast and Musicland. The store on the Palisades site also carries them.
Click on a picture to see more pictures of that action figure.
Ulala comes with a laser, a microphone and her base. She can hold both her laser and her mic, but the laser also has a peg on it which fits into a hole in her right thigh so that she can "holster" it. Ulala has more articulation than you would think if you only looked at her in the package:
neck
shoulders (2)
elbow twists at the top of her gloves (2)
chest twist under her top
hips (2)
leg twists at the top of her boots (2)
Evila comes with a microphone and her base. The robotic reporter has the most detailed paint application of the four figures. Her SC5 logo on her chest blends in nicely with the pattern on her outfit. As with Ulala, she has more articulation than a casual glance reveals:
neck
shoulders (2)
elbow twists at the top of her gloves (2)
chest twist under her top
hips (2)
Pudding comes with a microphone and her base. The "42" on her chest is a subtle touch that is nice to see in this size figure. She is less articulated than Ulala or Evila:
neck
shoulders (2)
bicep twists at the top of her gloves (2)
hips (2)
Space Dancin' Ulala comes with a microphone and her base. (The sticker on the bubble lists a laser - from comparing the inner bubble trays of Ulala and Space Dancin' Ulala, it appears that the space helmet took up the space where the laser would have gone.) As with the rest of these figures, this Ulala has more articulation than you would think if you only looked at her in the package:
shoulders (2)
wrist twists (2)
waist twist under her belt
hips (2)
ankle twists (2)