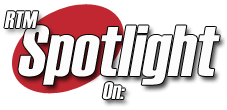 Tech Deck Skate Crew
In late 2001, X Concepts, the company making Tech Deck products, introduced Tech Deck Dudes to their finger toys/sports product line. The Dudes are cute thumbs with attitudes, and come with their own skateboards with rolling wheels. X Concepts refined the Dudes with the Magna Series, adding magnets to their feet so that they didn't have to be pegged onto their boards.
With the Tech Deck Skate Crew, X Concepts takes the Dudes even further, introducing real characters from real skateboard companies. First up are Blind and World Industries. The first twelve characters planned are: Wet Willy, Big Willy, Wet Willy Super Soaker, Bruce Will-Lee, Foolio, Devil Man, Flameboy, Flameboy Full Metal, Flameboy Heavy Metal, Reaper, Mullet Boy, and Thugsta. (Reaper and Flameboy are pictured in this Spotlight, but you can see pictures of the others in a March 2002 press release and on the official Tech Deck Dudes web site.) Later in 2002, Alien Workshop and Tum-Yeto will also receive the Tech Deck Skate Crew treatment.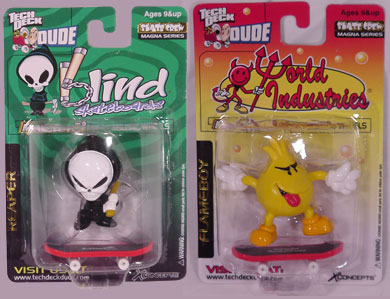 The Reaper Dude is as adorable as the Reaper in the Blind logo, and while he does carry a scythe (molded into his hands), the rear flap on his outfit takes away from anything menacing in his appearance. The Reaper is a non-articulated PVC figure. Flameboy is also non-articulated, but his arms and legs are longer and more pronounced than Reaper's, so his limbs can be bent slightly. He is almost, but not quite, a bendy figure.
The magnets in their feet allow them to stay on the boards in any position, and also allow them to use the skateboards, surfboards, and snowboards of the other (magna series) Tech Deck Dudes. The magnets are strong enough to hold the Dudes to your fridge or locker door.
While the included skateboards are not as fancy as the ones in the regular Tech Deck product line, they do feature rolling wheels and are balanced to be able to remain in a wheelie position with the Dude on it. The Skate Crew skateboards come in several different colors, although the two shown here are both red. The decks of the skateboards feature the logo of the company - either World Industries or Blind.
The Tech Deck Skate Crew toys retail in the range of $4.99 USD, and are available at stores such as KB Toys, Target, Toys'R'Us, and specialty toy stores, as well as on the online store at TechDeck.com.
Links: Finger Toys - Bikes & Boards