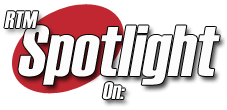 Six Gun Legends
Series 1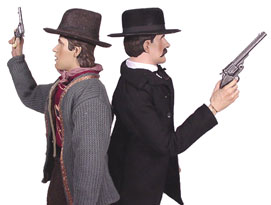 Sideshow Toy has been expanding its line of 1/6 scale figures steadily over the past year by adding a variety of licensed and non-licensed properties. At Toy Fair in February 2001 they had on display the first two figures from a new line called Six Gun Legends, which have recently reached store shelves.
Six Gun Legends has its genesis in the Sideshow Toy Team's interest in history and historical reenactment. The American West is a time that is full of romantic images of duels, outlaws and lone lawmen staking out their places in the frontier. While the reality of that era was not quite the same as popular entertainment, it was still a time when many legends were born that continue into the cultural identity of America. Sideshow decided to have two well-known men from the west to inaugurate their new line, one known as a lawman and another as an outlaw.
The package design for these figures is well executed. They are designed to be opened and closed without damaging the packaging (except for cutting some tape), which makes them very collector-friendly. They have a fifth panel box which opens to show the figure behind a large plastic window. The inside of the cover flap is filled with a great deal of biographical information, which adds authenticity to the figures.
The portrait sculpture of both figures was done by Mat Falls, and each body is the "standard" 12-inch Sideshow body, with the following points of articulation:
neck
shoulders (ball jointed)
bicep twists
elbows (double-jointed)
forearm twists
wrists (move in two planes)
chest
waist
hips (ball jointed)
thigh twists
knees (double-jointed)
lower-leg twists
ankles
Click on a picture to see more pictures of that action figure.
William H Bonney (aka Billy the Kid) is perhaps the most well-known outlaw of the American West. The character is probably best known from the Young Guns movies (where Emilio Estavez played Billy), but this figure is based on the real life Billy rather than a screen version. The Sideshow team used the only known photograph of Billy the Kid as the basis for their figure, down the clothing and accessories.
Billy comes fully loaded with accessories, including a well-worn slouch hat, cartridge belt, Colt Lightning revolver, range knife and sheath, a 'slim jim' holster, a '73 Winchester carbine and an extra hand (which is one thing the real Billy didn't have). The extra hand is for the right arm and is designed to hold the rifle better than the hand that comes attached (which is posed for holding a pistol), though it takes some work to remove and attach a different hand. The Winchester has a movable lever, which is essential in lever-action rifle.
Billy also has a full wardrobe, and the quality of the clothing is very high. Billy has a pair of boots, trousers, a sweater, a vest, and a shirt. The shirt has full sleeves and has a flap on the front that can be opened. All of the clothing is made from high quality material and they all feature small buttons and fit and look realistic.

Wyatt Earp stands out as a symbol of frontier justice, even though many people have debated which side of jail bars he should have been placed. He is very well-known for the many movie incarnations of him over the years, and they all tend to cover the one event in his life that made him a legend - the fight at the OK Corral. Less than thirty seconds of gunfire made up this fight, but even 100 years later the even is still a highlight of the American West.
While the real Wyatt Earp often traveled unarmed, his action figure is loaded for bear. He has a cartridge belt and 'slim jim' holster, a Colt 7.5" single-action army revolver, a 10 gauge double-barreled 'coach gun' and a confiscated Smith and Wesson 1873 'scofield' revolver. The shotgun is hinged to open so it can be 'reloaded', and both pistols can fit into the holster. Wyatt has an extra hand (the same as Billy) that is a better pose for holding a rifle, and it can be switched out with the right hand with a little effort. The hands fit very snugly, so some force is needed when switching.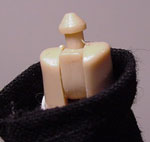 wrist pin detail
The clothing for Wyatt matches Billy's in quality materials, but is more elaborate. Wyatt is topped off with a flocked wide-brimmed 'sugar loaf' hat and he wears a black frock coat. The coat is fully removable and underneath Wyatt has a white shirt (with full sleeves) and a vest. The vest and shirt have small buttons sewn on, and there is a tiny golden chain (made of metal) sewn into the vest to simulate a pocket watch chain. Both the shirt and vest are removable and made of good quality material, with the vest having black fabric on the back and silver fabric in the front. He also has some trousers and a pair of boots, to finish his ensemble.
Where to buy these figures: The Six Gun Legends action figures retail for $50 to $70 USD for the set. They can be found online at Sideshow Toy's online store and at other online stores which carry Sideshow's products.
One such store is RTM sponsor AisleSniper.com.
Click to see pictures of Billy the Kid