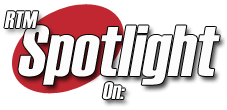 Justice League Unlimited
Solomon Grundy
Show exclusives. Love them or hate them, they've become a part of collecting. They can be a place to see something that wouldn't work in the mass market or a chance to try something totally new. One of the 2006 summer convention exclusives kind of falls into the former. With Solomon Grundy for the JLU line it has been a journey to make it to production, and he's coming to a show this summer.

Before we get started, let's take a moment to look at the summer convention season. There are really two big conventions and they usually take place within a few weeks of each other. The smaller of the two is Wizard World Chicago and the big one is Comic-Con International in San Diego. It has become almost a tradition for many companies to offer exclusives at both these shows since together they bring in over 150,000 people.

Mattel has been doing summer exclusives for a while now, using it as a means to augment their regular lines. There have been various Masters of the Universe and Batman exclusives, and this year they are working with Justice League Unlimited to bring a figure to the public that won't work for the mass market release.

The problem with Grundy has been his size, and that to accommodate him in blister packaging he has trouble with case pack-outs and retail space. For a long time he was in limbo, with folks at Mattel trying to get him into the hands of fans. This year they have taken him as a show exclusive, with a run of 5000 divided between San Diego and Chicago.

Before we delve into the character or figure we have to gush a bit about the packaging. Mattel has always done a fabulous job on their convention packages and this is the best so far. It goes to show just how inventive they can get when not being stuck in the mass market for the package. This package is significantly bigger than previous exclusives (see comparison shot on photo gallery page).
He is inside a cardboard outer box with a stone work pattern and just the name on it. Inside is a package similar in design to the ones they have had the last few years, with an angled front and window box packaging. The top has a cut-out to allow light in and has a sewer cover look as if you are looking down a manhole to see him. The back has a large image of Grundy fighting Hawkgirl.
The tab on the front (you can pull it without opening the package but not the outer 'stony' cardboard box) make the package shake and vibrate. Female fans may enjoy it, and it makes the thin strips of sewer ooze shake so it looks like he is down in the Gotham sewers. It's a nice touch and the mechanism isn't part of the figure, just the packaging. The nice look actually makes him a great display piece unopened.
Solomon Grundy is based on a 19th century nursery rhyme and he first appeared back in 1944 in All-American Comics #61. Grundy is the zombie of a man named Cyrus Gold and he was re-animated in a swamp near Gotham City where his body had been dumped years before. From there he took up a life of crime.
Where is he now? Well, aside from appearing on the JLU animated show, it's a complicated story. Like pretty much anyone who lives, lived or might live in the DC Universe the timelines are convoluted and complex. But the most recent appearance might have been his last, as he was at the wrong end of Superboy-Prime's heat vision in Infinite Crisis #7.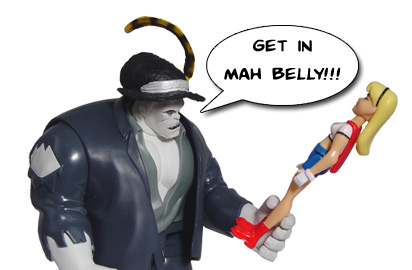 The toy is alive and well. Well, as alive as the dead person that is Grundy. He's 5-1/8" tall and 3-3/4" wide by nearly 2" thick. Any math geeks want to calculate his volume? ;) Seriously, he's a big guy. He's solid (and heavy) and for one reason alone doesn't fit into the JLU line - he stands just fine on his own! He's got big, flat feet with strong ankles.
Articulation:
Shoulders - swivel joints
Neck - twist
Thighs - swivel joints
Waist - limited twist (due to chest sculpt)
This is about average for JLU figures, so he fits right in in the articulation department. As for whether he fits in, check out the group shot on the photo gallery page. He's there with a few of the other JLU figures.
His arms and legs are molded in dark grey and his jacket is a much softer, flexible material that was placed on him. So you can remove that if you like, and his chest is a lighter grey with white. His paint work has a silver screen look, being only in black, white and shades of grey for a classic look. Hey, he is a character from 1944!
Where to Buy
You can pick him up at the Comic-Con International or Wizard World Chicago direct from Mattel. Beyond that, he'll be available on eBay and likely in small numbers through some online retailers after each of the shows. He's got a $20 price tag, so keep that in mind. If you can't make it to one of the shows, you may find a friend who can help you out or keep a lookout on eBay and online stores.
More pictures of Solomon Grundy