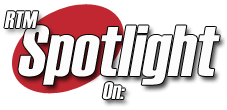 Spider-Man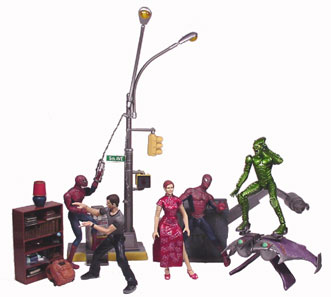 Spider-Man can do whatever a spider can, but Spider-Man the movie can do what no movie has ever done - break the $100 million opening weekend. While on it's way to breaking as many box office records as possible, it's on it's way to making more toys so that Spider-man can come out to play. The second series of action figures from the film have the same hallmarks as the first series - several Spider-Man figures, some supporting cast, the Green Goblin, and an emphasis on play features. Collectors will be buying these, but the target audience is kids.
The second series has two versions of Spider-Man (one that leaps and another that swings), Peter Parker, Mary Jane and another Green Goblin. Toy Biz has utilized the talents of Gentle Giant Studios to get scanned likenesses for Tobey Maguire (Peter Parker) and Kirsten Dunst (Mary Jane) as they did with the first series of figures.
Toy Biz showed a figure that depicted Spider-Man as he appears in the wrestling match in the film, so a third series of figures is always possible, though fans may have to wait until the sequel in 2004. In the meantime, the second series of figures should help tide you over.
Click on a picture below to see more pictures of that action figure.
Spider-Man may be well known for his webs and 'spider-sense', but what about his incredible ability to leap? Yes, the Amazing Spider-Man has the power to leap over tall dumpsters and trash cans in a single bound. The leaping Spider-Man figure does get a bit of help from the accessory that comes with him. The dumpster and trash can have a spring-loaded lever that has a clip which can hold Spidey. Once it's pulled back and set, pressing the trash can lid gives Spidey a leap, though with the clip on it acts more like a catapult that doesn't release its ammunition. If only the Green Goblin had lured Spider-Man to this dumpster trap he could have set and reset it until the wall-crawler was just a squished bug, but being insane sometimes means you miss the obvious.
The figure that comes with the 'venus spider-trap dumpster' isn't quite as articulated as the super-poseable Spider-man from series one. This time out, Spidey has articulated ankles, knees, thighs, waist, shoulders, mid-bicep twists, elbows, wrists and the neck. His pose is more of an 'action' pose rather than a static one, and his skill is to be beaten up ('leap') by the dumpster.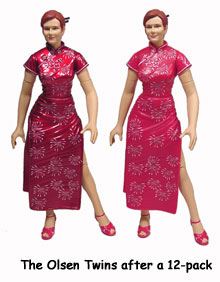 You aren't seeing double with Mary Jane, this figure does have a variation. A running change was made to the production of this figure so the earlier versions had a flatter look to the dress and were pink, whereas later figures had a red metallic look that is closer to the dress she wore in the movie. Other than dress color, the figures are identical and the skirt portion of the dress is a softer plastic.
Mary Jane is shown here as she appears during the festival in the film, and she comes with the balcony that she was standing on as an accessory. The balcony is designed to 'break apart' when a panel on the front of it is pressed, allowing Mary Jane to fall to her doom unless Spider-Man can swing in and rescue her. Besides the 'break apart' nature of the balcony, she should have stayed away since the handrails are clearly too short to be safe. The balcony has holes in the back so it can be mounted to the wall, but also comes with two suction cups in case you don't feel like nailing Mary Jane. Err, nailing the balcony to the wall.
Mary Jane isn't as articulated as Spider-Man, but her role in the film seems to mostly involve either falling or being picked on by thugs, so she doesn't need it as much. Okay, she slips and does some kissing too! But she does a lot of falling. She has articulated knees, thighs, shoulders, bicep twists, waist and neck. Due to the design of her dress the thigh articulation isn't of much use, but the knees work fine with the softer plastic skirt.

Where would Spider-Man be without Peter Parker? Without a secret identity, that's where! Peter Parker is who defines what Spider-Man is and he's played to perfection by Tobey Maguire in the film. This version of Peter shows him as he appears just after he 'discovers' his web shooters in his hands and practices in his room. The figure is designed to simulate Spidey's webbing by using water. Water, because it isn't toxic (well, most of it) and because its effect on people you squirt is minimal since they'll just be wet. Peter has a backpack that holds the water and when pressed causes it to squirt out his left hand. It's what every kid wants - a built-in super-soaker. The only downside is the small capacity of the backpack, though it can squirt quite a distance (as we learned from rigorous testing).
This figure has plenty of nice accessories to go with it, including a large bookshelf, some test-tubes, a few chess pieces and a lamp. The lamp shade comes off and makes a nice hat for 'party time Spidey' when he has a little too much 'red ball and yellow lightening' to drink (included with this figure). He also has Peter's camera and his glasses, which he doesn't need for most of the film since genetically altered spider bites are cheaper than lasik surgery.
Peter's articulation is a little limited by his action feature, and his left arm only has a shoulder twist. The right arm has wrist and mid-bicep twists and a ball-jointed shoulder. The neck joint allows both twisting and a small amount of tilting to the head, and the waist, thighs and knees are articulated. The ankles both have ball-joints but can basically only twist due to the sculpting of his jeans.
The Green Goblin is Spider-Man's arch-nemesis and also the father of Peter Parker's best friend. Norman Osborn is also a single, rich guy and very available. At least for part of the film, Aunt May is available. Could sparks have flown and the Goblin and May gotten together to make Norman Peter's step-uncle and really made things complicated? Maybe if this was a 'Star Wars' movie, but thankfully it's not and we never get to, umm, explore that possibility.
There was a super-poseable Green Goblin in the first series of figures, but that Goblin's glider didn't shoot projectiles. This time around they took out some articulation in exchange for pumpkin bomb launching ability. This glider is roughly the same size as the glider from the other Goblin figure, but it has been slightly redesigned to accommodate the pumpkin bombs and also has a grip built-in to hold the glider and 'fly' it around. The pumpkin bombs are launched via a lever on the back of the glider that can move the Goblin from side to side and when it reaches the limit of movement on that side it releases the pumpkin bomb. The bombs themselves are launched by spring action from coiled foil that is attached to the bombs.
The Goblin figure is held on the glider not by pegs, but by fitting into stirrups on the glider. Unfortunately, this guy's feet are bigger than the previous super-poseable figure, so the older figure doesn't readily stay on the glider. The Goblin has ball-jointed shoulders, thighs and ankles and has articulated knees, wrists and mid-bicep twists. He also has an articulated waist and his neck is ball-jointed.

An assortment with two variations of Mary Jane might be the perfect one for a swinging Spider-Man and here he is! With two MJ's that just doubles the danger they'll get into! What did you think they would double? So Spidey needs to be able to swing in and save them both while they do what they do best - fall.
The best part about this figure is the huge street corner accessory. It is a jumble of parts that once assembled makes a nifty playset. The corner has two street lights (suitable for swinging), a traffic light, a sewer grate and even 'walk-don't walk' signs. There is also a small paper box where the 'Daily Bugle' is sold. It isn't a real paper box because while it does open and does have three papers in it, it isn't bolted down. It does have a few headlines showing in it, but it doesn't accept currency. The corner is pretty sturdy, strong enough for Spider-man to swing from the lights. Spidey accomplishes his swinging via two plastic 'web lines' that have clips on either end that can be attached to various items to let him swing. (Special thanks to Michael Bethune for pointing out that the paper box does open - the RTM Test Lab Monkeys weren't pulling hard enough on the door, just like in real life.)
The figure that comes with this set has limited articulation due to the action feature built-in to it. When the legs are squeezed the arms move to either simulate shooting out a webline or climbing a wall. He can also simulate a bad version of boogeying to 'Disco Inferno', but at least he's trying! The legs have articulated thighs, ankles and mid-foot joints. The shoulders and elbows are articulated, but their movement is stunted because of the action feature that is in them. The hands both have wrist and finger articulation (just the middle two fingers on each hand) and they have mid-forearm twists. He has neck and head articulation so he can turn and tilt his head. Did we mention 'Disco Inferno'?
Peter Parker Pictures
Where to buy Spider-Man Movie action figures: The Spidey action figures retail in the $6.99 to $9.99 USD price range. Some online stores sell them in sets, in the $40 price range. They are available at toy stores such as Toys'R'Us (and Amazon.com), KB, Wal-Mart, and Target, as well as various online toy retailers.

One such online store is RTM sponsor BigBadToyStore.com.