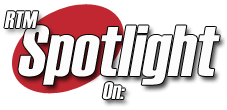 Muppets Action Figures:
Series Five
Palisades Toys is breaking records and setting new standards every day. With the release of Muppets Series 5 they have continued with their biggest toy success and probably set a personal best in turnaround since Series 4 hit shelves. With each new release they continue to improve sculpting, articulation and quality control beyond already high levels. The result is a set of toys that you'll want to have in your display even if you aren't a Muppet fan, just because they are cool.
The line of Jim Henson's Muppets is based upon the creations of, naturally enough, Jim Henson. What Jim did was breathe life into puppets and combine them with marionettes to create some of the best-loved and most memorable personalities on television. When you watch the Muppets perform you never see the cloth or felt regardless of how obvious it is, but you only see the characters shining through, as alive as anyone. And probably more alive than Gray Davis.
For Series 5, Palisades has chosen a stronger lineup than Series 4 and incorporated several fan favorites. The Muppet Newsman is the most obscure of this set, even if he is easily recognized. From there you have the often fan-requested Janice to fill out the Electric Mayhem band, Gonzo the Great in a suit as opposed to his daredevil outfit, and a newer Muppet in Pepe, the King Prawn. Along with these four figures is the obligatory chase figure, and this time it's a variant of Janice with different paint decoration.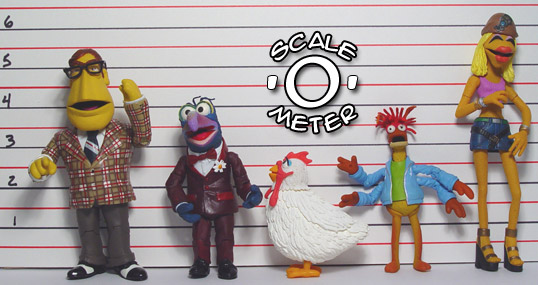 Next up for the Muppets is Series 6 with Statler, Waldorf, Patrol Bear Fozzie and Clifford. It's due in December 2003 along with the next playset in the line - Pigs in Space. Series 7 has been revealed as Beauregard, Frog Scout Robin, Kermit as Captain Smollet and a plethora of Johnny Fiamas and will ship sometime early next year.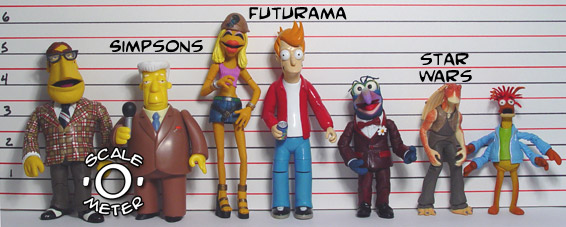 To understand the Muppets action figures is to understand Product Designer Ken Lilly. More than anyone, the look and design of the line is a result of Ken's work so you can direct any boos or bravos his way. There are two hallmarks of Ken's work - giant detailed playsets and meticulous and elaborate accessories. Since this covers the figures, there are accessories aplenty and the details make sense since unlike comics or animated characters, the Muppets live in the real world use the same materials as you or I. For most of the accessories the only place you'll find more detailed versions are the real thing.

All the figures are stowed inside clamshell packaging include a handy generic Palisades Toys base to make sure they have help standing. Whether they need help from being drunk or just having bad balance is entirely up to you.

Janice

Janice is one of the relatively few Muppet women, and the blonde is the lead guitarist for the Electric Mayhem. She lends some vocals for the band, but in conversation she resembles the Valley Girl dialect filled with liberal fer shure's and like's. However, it all goes back to the band, where not only do her talents lie, but also her heart. Her beau is fellow guitarist Floyd Pepper, and they make beautiful music together during and after gigs. Her other bandmates include Dr. Teeth, Animal and Zoot and now the band is back together!

Any guitarist will tell you that you have to have a guitar, and Janice has thoughtfully brought her own (played left handed no less). She's got an amp included for a bigger sound, and a tambourine. The tambourine is a work of art, and you can play the miniature musical instrument just like the real deal. It even makes the same sounds and there's a small hole in the side for Janice's thumb so she can hold it properly when playing us a song. The only things missing are a guitar strap and cord for guitar that plugs into the amp which is odd since both were included with Floyd Pepper. It could be an oversight by Palisades, but the much more popular (and thoroughly impossible to prove) story involves a conspiracy involving guitar straps and potted meat. Scandalous!

Being a tall and thin woman, Janice's design is one that presents problems. The biggest is her balance, and she can stay up without the stand but only with some work to get her balanced precariously. She works much better with the stand than without, especially if you add in any of her accessories. She has a hat that is magnetic, so it can stick to her head or your refrigerator. The nice thing about Janice is that she has soft plastic hair that covers the usual scarring on some of the earlier Muppets figures with the magnetic hats, and so she doesn't resemble a lobotomy patient. She also has a soft plastic skirt that works well with her ball-jointed thighs (very similar in design to the Princess figure from Battle of the Planets).

Articulation:
Neck (ball-joint)
Shoulders (ball-joints)
Bicep (twists)
Wrists (twists)
Midriff (twist hidden by halter top)
Thighs (ball-joints)
Ankles (twists)
Janice and Scooter have one thing in common - their performer. Richard Hunt (not to be confused with Mike) was the man behind both of these characters an also Sweetums and Statler. It seems he liked characters that begin with the letter 'S', except for Janice. Sadly Richard has passed away, but his characters will never die, unless it is a plot device. Pepe

From the coast of Spain comes Pepe, the King Prawn. His Spenglish has led to a few new terms for the other 'muffets' led by Karmin. Foreign languages can be fun, like if you want to say 'surrender' just learn French. Pepe isn't the most wholesome sea creature, and he's the guy who's always playing the odds and angles to get ahead. He's not afraid to try and get others to help him, though his skills as persuader need much work. And he's a prawn, not a shrimp even if the two are very similar, okay?

Pepe is a recent addition to the Muppets, making his debut on the show Muppets Tonight. From there he made the jump to the big screen in Muppets in Space and has been a popular and integral part of the troupe Muppet ever since. He doesn't just keep in the public eye with his acting work, and he has also been the spokesperson for Long John Silver's Restaurants, which is where you may recognize him from if you missed Muppets Tonight. The really weird thing about working for Long John (other than allowing himself to be called a shrimp) is that he's basically endorsing the consumption of his own kind by promoting eating seafood and shrimp. What do you expect from a guy whose favorite website is prawnography.com?

The plastic Pepe uses several materials in his design, and his hair and jacket are softer plastic. He has good balance when standing without the flip flops, but with them on he isn't nearly as stable because the shoes are sloped. His feet have pegs for the stand though he really doesn't need them to balance, and the flip flops don't have peg holes though he could use the stand with them on. Oh well! His thighs have a joint that lets them move back and forth and it takes some work to get them moving, just be careful not to break anything. Pepe did have a little color bleed on one of his eyes, which isn't uncommon for white paint on a darker base color (seen many times on Simpsons figures).

Articulation:
Neck (twist)
Shoulders (ball-joints)
Elbows (bends)
Wrists (twists)
Waist (twist)
Thighs (bend)
Pepe seems to have gotten a great deal of accessories, no doubt due to his own scheming. For keeping his lunch has a Muppets Tonight Lunchbox, autographed by Pepe himself! The lunchbox opens and the set of binoculars included will fit inside for stealth. The binoculars are perfect for checking out the krill chicks, and he has a hair dryer to keep his hair perfect in case he sees the perfect mate. Both the hair dryer and binoculars have pegs that can fit into holes in either of his top hands. Nope, those holes aren't from stigmata. In case the sand on the beach is hot, Pepe has a pair of flip flops to keep his feet cool (called shower shoes in the Navy). The coup de grace is the foldable deck chair. The chair can fold up, has a cloth seat and has two settings for sitting up or lounging back. That would usually be enough, but the chair includes an umbrella that can attach to the chair, and the cloth umbrella can open and close. Perfect for keeping off the sun or putting in a drink to give it that extra style! Pepe is one figure you could buy for the accessories alone.

The man with the hand up Pepe's prawny posterior is the alliterated Bill Barretta. He doesn't only perform seafood, but he also is Johnny Fiama who will make his action figure debut in Muppets Series 7. Bill has done a little acting here and there like but the puppetry keeps him busy. You might recognize his voice as that of Earl Sinclair on the tv show Dinosaurs. Or, you might not!

Muppet Newsman

Walter Cronkite may have been the voice of CBS news for years, but in the world of the Muppets he comes up short to the Muppet Newsman. He selflessly delivers what happened and who did it and all without a proper name! He is his job, so you can just call him Newsman though in this politically correct world newsperson might be more appropriate. In the form of a Zen koan, you might say 'he is, what he is'.

What would any news anchor be without his news desk and a few monitors over his shoulder to convey even more news. He'd be nowhere, and thankfully the Muppet Newsman need not suffer that fate. He comes with full sized versions of a desk and a panel of monitors to sit behind him. The monitors are blank with a set of eight stickers that you can put up in any order you choose though international convention is to start at the upper left - flaunt that at your own risk. To go on the desk instead of sheets of blank paper (they use teleprompters) is a red telephone. The phone is suitable for answering pledge calls, imitating the Jerky Boys and calling Batman. The neat thing with the phone is that the cord is a softer plastic and actually coils and uncoils like on a real phone. No word on whether it works on 900 numbers despite our extensive research.
Once you get past the giant noggin with the removable glasses with plastic lenses, you see the Newsman in all his glory. He has two fine points about him, and both are about his jacket. The first is that the torso of it is a softer plastic and with the slits at the base of the jacket it doesn't hamper any of his articulation. The other cool thing is the great job the factory did on the plaid paint work.

Articulation:
Neck (ball-joint)
Shoulders (ball-joints)
Elbows (bends)
Wrists (twists)
Waist (twist)
Thighs (bends)
Knees (bends)
The Newsman is one of many characters performed by the late Jim Henson. He also played Kermit, Rowlf, the Swedish Chef and Dr. Teeth among others. But his crowning achievement was simply the creation of the Muppet Show and his legacy from that alone will live on. He also gets his name in the title, and that's a nice bonus! Gonzo and Camilla

Gonzo is as much a 'what' as a 'he', and just what he is was a mystery for years. The truth was out there, and with Muppets in Space it was revealed as being of extraterrestrial origin. This means he's an alien from another planet and also eligible to be governor of California. He made an appearance in Muppets Series 2 in his Daredevil duds, but he's traded them in for a suit and bowtie.

In addition to just being weird he has some weird tastes. Beyond Johnny Mathis, he has a fondness for chicken. Not the McDonald's induced addiction to Chicken McNuggets (20 years old now) that most of us feel, but something deeper. Gonzo's passion for poultry is manifested in his 'friend' Camilla the chicken. Camilla is the rare woman who has little to say, doesn't mind going around barefoot and pregnant and only chicken feed to get along.

Both figures in this set look great and use a few different materials. Gonzo has the softer plastic jacket that is on all the figures in this assortment, and he has nice soft hair on his head (if that is hair) and a soft bowtie. Camilla gets soft wattles in case Gonzo goes for that sort of thing, and he's enough of a freak he probably does. She also has great sculpted detail in her feathers that looks finger lickin' good.

Articulation:

Camilla - Neck (twist)

Gonzo -
Neck (twist)
Shoulders (ball-joints)
Bicep (twists)
Elbows (bends)
Wrists (twists)
Waist (twist)
Thighs (bends)
Knees (bends)
Accessories for Gonzo and Camilla are light, due to having Camilla in the package. See, women will make sure you have less possessions! What Gonzo does have is a valve-less bugle (kind of like the snacks, but not edible) and a box of candy. The box opens of course and inside you can see all the candies arrayed in neat rows. There is no key to what candy is what, nor do any of the candies come out but they look good. Really it's a metaphor - life is like a box of chocolates. If you get too many chocolates all your teeth will fall out and you'll end up abandoned at a retirement home gumming your oatmeal. Heed the lesson and die young rather than lingering!!
Dave Goelz is the Great Gonzo's Great Puppeteer; a role he's played since the late 70's and continues to this day. Other characters he has covered over the years include Dr. Bunsen Honeydew, Zoot, Waldorf and Beauregard. Gonzo's object of affection Camilla is played by Jerry Nelson. He not only plays a chicken, but a frog (Robin), a pig (Dr. Julius Strangepork) and whatever Lew Zealand is.
Credits:
There is certainly some duplication of credits among the Muppets figures, such as all the paint work being done by Eddie and Jason Wires. All the accessories were worked on in some fashion by Johnny Apokolips (i.e. the factory in China) with help on Janice by Raven Hood and on Gonzo by Big Chief Studios. The sculpture and prototyping for Pepe and the Newsman were done by Camelot Industrial Artists. Of the remainder of the figures, sculpt and prototype for Janice was done by Raven Hood and Gonzo was sculpted by Big Chief Studios and Johnny Apokolips with prototyping from Joe Farrell.
Pictures of Pepe
Where to buy Series Five Muppets: The Muppet Show action figures retail in the $8.99 to $11.99 USD price range, and are available at stores like Suncoast and Sam Goody, as well as various online toy retailers.

Several such online stores are RTM sponsors Big Bad Toy Store, The Outer Reaches, and Action Figure Xpress. (Be sure to check the other RTM sponsors, listed on the Shop Center.)