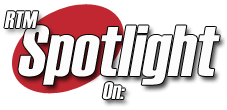 Mezco Toy Fair Swag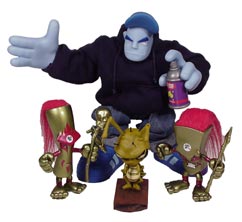 Mezco Toyz has always had an eclectic mix of toys in their line-up, and 2002 is no exception. This year for the International Toy Fair in New York, Mezco had a few freebies to give out that showcase some things they will release later in 2002 and 2003. In the mix was a small Mezco roach statue, a pair of Tiki-Mon toys and one of the Hoodz action figures – Fat Cap. These were all promotional items, so the final product may vary from these when they are released, but you should be able to get a good idea about them from this spotlight.
The roach statue depicts the Mezco mascot standing on a piece of wood. To the top of the antennae the statue is about 3 ½" tall and is fully painted. The sculpting detail even includes a small navel on the chest, nostrils and some 'stubble' on the head. At present, there are no plans to make this item available for purchase (beyond those that have made their way to ebay), but this is a chance to let you see what it looks like.
Tiki-Mon is a line that isn't due to be released until 2003 in the US, but there were some manufactured for a Hong Kong retailer and they were given out during Toy Fair. The US release of Tiki-Mon will have two tribes – wood and stone, and each tribe will have four distinct members (which matches their hands and feet with four digits each). The two shown here have a metallic gold finish and have Chinese characters painted on their heads, though the initial artwork suggests that the release figures will be textured to match their tribes.
The figures themselves aren't articulated but the limbs are a softer plastic that allows them to be bent somewhat, but they aren't designed to hold different poses. They were packaged in a black wrapper along with two staves – one with a skull and the other that looks like a spear. They both hold either weapon, though it takes a little force to get them into their hands, and they both appear to be ambidextrous. They have faux fur for their hair, similar to the hair on the Troll dolls and are nearly 3 ½" tall.
The Hoodz line will debut later this year as a series with four members – Fat Cap, Signstein, Letterman and Vapor. There were two versions of Fat Cap handed out at Toy Fair – a blue-skinned and a white-skinned version, and we will be covering the blue one. The final release will be Caucasian, but the articulation and styling should remain identical to the one reviewed here. Fat Cap is 7" tall and comes packed in a windowless box and should have a retail price around $15.
The accessories that come with this figure are a plastic baseball cap, a cloth boonie cap and a can of paint. The cap comes off the can of 'Tuff-Stuff Vandal Varnish', and the can actually has ball bearing in it to give it a realistic sound when it's shaken, though it doesn't spray any paint. The left hand is pre-posed to hold the paint while the right is open, and Fat Cap may be one of the Tiki-Mon since he has four fingers on each hand! He has a complete cloth outfit with a sweatshirt with a drawstring for the hood and holes to keep his hands warm (though they are too large to fit). He wears a pair of cloth jeans and plastic shoes that cover his feet (which are molded in white in the shape of socks). The entire outfit is removable and the materials are very high quality, with the jeans being a denim material that even has pockets and belt loops sewn in, and the top even has elastic material for the waist and wrist cuffs. He has a pair of real metal earrings to complete the ensemble.
The figure itself is roto-cast vinyl, which has seen popularity recently. The trend has its roots in Hong Kong and has focused on urban characters. Fat Cap is well-articulated with a twisting neck, wrists and ankles. He also has a mid-thigh twist on each leg just above the knee, and the thighs twist where they attach to the mid-section. There is also a mid-bicep twist for each arm, and the shoulders are attached by joints that are similar to ball joints and offer the same mobility. The waist has the same type of joint and it allows twisting of the torso and some bending to add poseability to the figure.
Where to buy: While the statue isn't presently slated for public release, the Tiki-Mon and Hoodz can be found online. There are some of the Hong king versions of Tiki-Mon available on ebay and at Aislesniper.com, but for the regular US release you'll have to wait until 2003. The Hoodz are available for pre-order on Aislesniper.com, as are some of the Hong Kong exclusive versions of Fat Cap. In addition, TowerRecords.com
offered three exclusive (and limited) versions of Fat Cap in March 2002.
Win a set of Tiki-Mon at Action-Figure.com! For a short time, you can enter to win a set of Tiki-Mon over at Action-Figure.com.
Click to see more pictures of the Statue and the Tiki-Mon