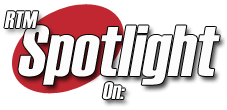 Dale Earnhardt
Deluxe Box Set
In every sport and at every sporting event, there are winners and losers. These come and go almost as quickly as the weather, and you never know when the next big thing will blow in. Along with the winners and losers you have the very few individuals that stand above everyone else - those who reach the status of legends. In auto racing, Dale Earnhardt has earned his spot with the legends.
The road that led to Dale earning the name 'Intimidator' started just north of Charlotte in Kannapolis, North Carolina. His father - Ralph - spent years traveling across the southeast racing cars, something that wasn't lost on his son. A desire to emulate his father was born, and Dale started his racing career in Hobby-class cars. Racing was not as well-financed as it is now, and so the only way to keep racing was for Dale to work in his off time and to pay his own way.
The death of Dale's father served to make him even more determined to succeed, and in 1975 he made his first Winston Cup start at the World 600 in nearby Charlotte. However, it wouldn't be until the 1979 season that Earnhardt had a full season where he would earn the honor of Rookie of the Year. He proved that was no mistake by winning the Winston Cup in 1980, the first of an eventual record-tying seven wins (along with Richard Petty). Had he not met an untimely death, it seems he would have eventually won a record eight title.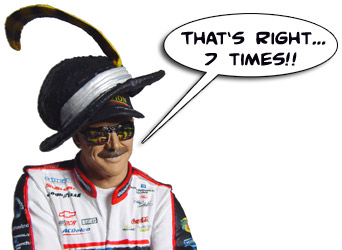 Something that makes a winner into a champion, is that a champion never forgets where he came from and in that respect Earnhardt was a true champion. His children were always very important to him, as was the cause of education. And Dale was an outdoor sportsman, and was a firm supporter in nature conservation, a cause his Foundation continues to support.

Dale Earnhardt died in an accident during the final lap of the 2001 Daytona 500, an event that shocked to sport and also reminded people of just how dangerous the sport of auto racing can be. While his death is certainly tragic, he died doing something he loved in life with no regrets. We should all be so lucky.

McFarlane Toys has decided that a man of Earnhardt's stature deserves a little more than the standard treatement, and so they cooked up a deluxe boxed set. By deluxe, you get a figure of Dale Earnhardt looking very relaxed and a display stand. To accessorize a 7-time NASCAR winner what could be better than seven trophies, commemorating each of his wins. Each of the trophies has a clear tube to suspend them around Dale, giving it a floating look and allowing you to see them all at once.

When all is said and done, what you're getting here is a plastic statue that makes a great display piece, and not an action figure. The only articulation is the neck (a part Dale would often make spin from his spectators), and that's really all you need for this. One problem with NASCAR drivers as toys is that much of the action of these athletes comes in driving a car, a pose that is pretty static. Even though Dale Earnhardt was a sportsman in every sense of the word, this set is purely a tribute to his successes on the track.

As you can tell from the pictures, no detail has been spared and the paint and detailing is done to perfection - a McFarlane Toys trademark. The myriad of sponsors logos are easily recognizable, and they even went to the extra step of adding in a reflection on Dale's sunglasses. The trophies are accurate (even down to the different trophy from 1980) and have nice detailing. They don't actually say 'Winston Cup Champion' and while most likely this is for legal reasons, it is also part of NASCAR's changes. This year the championship is sponsored by Nextel and not Winston cigarettes, a move that is going to allow NASCAR's popularity to explode this year since they can more easily market it to children (removing the spectre of tobacco sponship), and expand their fan base.

The figure is 6.5" tall, but the scale really isn't an issue since this will make a nice display piece by itself. But you can always put it with some of the other NASCAR drivers from McFarlane so they can look up to the legend. Along with the trophy display, you'll need over a foot to give this enough room. Or you can just leave it in the box, where the window allows you to see everything and has some basic biographical information on the box.

April 29th is Dale Earnhardt Day, so the faithful who happen to be close to Mooresville, NC can make plans to visit Dale Earnhardt Inc. 2004 will have the 1998 Daytona 500 trophy on public display for the first time, as well as other memorabilia.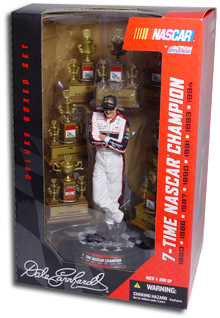 Click to see more pictures of this set
Where to buy the Dale Earnhardt Deluxe Box Set: This set has a suggested retail price of around $19.99 and is available in stores which carry the other NASCAR figures, such as Gamestop, Wal-Mart, Toys'R'Us, and Electronics Boutique, as well as various online toy retailers.

Several such online stores are RTM sponsors The Outer Reaches and Killer Toys. (Be sure to check the other RTM sponsors, listed on the Shop Center.)