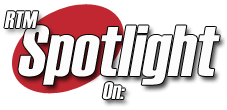 Glow-in-the-Dark
Universal Monsters
(Series One)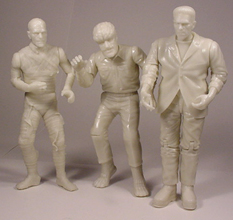 The first series of "glow in the dark" (GITD) Universal Monsters 8-inch action figures from Sideshow Toy are Boris Karloff as Frankenstein's monster, Boris Karloff as the Mummy, and Lon Chaney, Jr., as the Wolfman. (This assortment is the same line-up as the Series One regular edition and Series One Silver Screen edition Universal Monsters from Sideshow. The figures use also use the same molds as those other two editions.)
These figures appear white in normal light, but once you turn off the lights or take them into a dark room, they glow a fun green color.
These GITD figures are packaged in plastic clamshells (like the Translucent Creature from the Black Lagoon) and do not have stands or accessories. Sideshow again gives sculptor credits on the packaging. All three Series One figures were sculpted by Oluf W. Hartvigson.
The Series One GITD Universal Monsters are a limited edition of 1,500 sets, and can be purchased via the Sideshow Toy online store for $60 USD per set or at Entertainment Earth for $50 USD per set.
The three Series One GITD figures each have the following articulation:
neck
shoulders (2)
elbows (2)
wrist twists (2)
waist
hips (2) - (The hips on the Wolfman are actually more like thigh twists.)
knees (2)
| | |
| --- | --- |
| Silver Screen & GITD Frankensteins | Carded |
| The Wolfman | Carded |
| The Mummy | Carded |