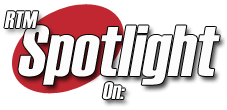 Edward Scissorhands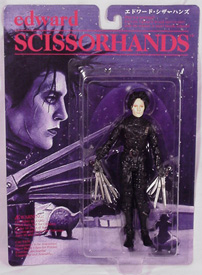 Once every few years, a film comes along which strikes a chord in people and becomes a "cult classic." Edward Scissorhands from Tim Burton is such a film. Released in 1990, it is the story of an artificial man (played by Johnny Depp) whose creator died before he could finish giving him hands, so Edward has scissors for hands. A resident of a nearby town "finds" Edward and takes him in: the issue becomes whether suburban society can accept someone with scissors for hands.
Despite the faithful fan following of the film, there have only been two action figures made of Edward, both in recent years. McFarlane Toys included an Edward figure in their third series of Movie Maniacs in 2000, and Hobby Base Yellow Submarine (YS), a Japanese company, made a version for the Japanese market in 2001.

Yellow Submarine's Edward Scissorhands action figure was imported by Diamond Comics, which means that it can be found in comic book stores and certain specialty retailers such as Electronics Boutique as well as a variety of online stores. The original retail was in the $12.99 USD range, although we picked him up at Electronics Boutique on clearance for $3.99. (It was originally released in the US by Diamond in July 2001, we bought him at that clearance price in November 2001.)
A variant version of this figure was made as an exclusive for the 2001 San Diego Comic Con International and Wizard World Chicago conventions. Limited to 2,001 figures, the figure was cast in clear blue plastic with a white paint wash, to appear as though he is a "self-portrait" in ice. Diamond Comics also offered the variant version of Edward through the December 2001 issue of Previews Magazine.
The YS action figure version of Edward is seven inches tall and has a limited range of articulation: neck, shoulders, elbows, forearms, wrists, scissor-blade fingers, and the mid-thigh of his left leg. (The McFarlane Toys version was about as tall, but featured more articulation: neck, left shoulder, bicep twists, forearms, scissor-blade fingers, waist, hips, and calves.) Both versions recreate Edward's leather costume, with all the buckles, in great detail.
The YS version features something that the McFarlane version does not: credits on the cardback. (Sculptor: Taishiro Kiya; Package design: Positron; and Illustrations by Nampei Kaneko.)

Yellow Submarine's
Edward





McFarlane Toys' Edward









The photograph of the McFarlane Toys' Edward Scissorhands is copyright McFarlane Toys, 2000. Used with permission.