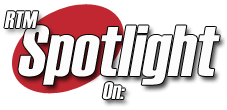 Usagi Yojimbo Vinyl Figure
Joseph Campbell and George Lucas both saw myth as a powerful basis for storytelling. It is a great foundation to build a hero upon, with nobility, morality and a sense of wonder. Popular entertainment from 'Star Wars' and 'Babylon 5' to comics such as 'Superman' and 'Usagi Yojimbo' all have common roots within myth, but with contemporary twists that make them accessible to modern audiences.

Usagi Yojimbo is the creation of Stan Sakai, who is probably best known beyond Usagi for his work as letterer on Sergio Aragones 'Groo'. Tales of Miyamoto Musashi, who was the Michael Jordan of the Samurai, inspired Stan, and Usagi is loosely based upon him (even using his first name). With a few modern influences thrown in (like Japanese movies) as influences, the character of Usagi Yojimbo came into focus.

Okay, Usagi is in fact a rabbit. However, unlike Bugs Bunny he wears clothing and carries around swords, swords that he can use to kill you. If Elmer Fudd came around for 'wabbit season' he'd likely end up with a guest shot on CSI: Feudal Japan playing 'the victim'. The swords he carries aren't simply weapons of defense, but they are also badges of office that represent his calling as a samurai. The larger sword is the katana (and Usagi's is named 'Yagi No Eda' or 'willow branch') and the smaller blade is the wakizashi ('Aoyagi' or 'young willow'), so write that down in case there's a quiz later.

Calling Usagi a samurai isn't entirely accurate as he is a ronin, a masterless samurai who wanders the landscape of 17th century Feudal Japan (that's the 1600's for those keeping score). He's masterless because his lord is dead, and he is unwilling to take on a new master because he feels that a samurai may only serve one master in his lifetime.

At the time of the story, the samurai are in decline as their warrior class has been made obsolete by the formation of the Shogunate, so this presents challenges for any warrior. Usagi takes this in stride and decides to embark on the path of the wanderer, and to uphold the samurai code that teaches that honor and loyalty are above all things. It also teaches that the sky is above all things, but that's harder to work into your daily life.

Not only does Usagi take the path of the wanderer, but his comics have been wandering since they were first published in the 1980's. At the time black & white comics with funny animals had gained some notoriety, including the Teenage Mutant Ninja Turtles. One of these books was 'Albedo', published by Thoughts and Images and it contained the first Usagi Yojimbo stories. The issues had very low print runs and even then failed to move until the Teenage Mutant Ninja Turtles became a hit and it seemed every black & white funny animal book would sell. This was just the start of a wandering career that would lead through three other publishers over nearly twenty years, much the same as a wandering samurai roamed the land.

Dark Horse is the current publisher for Usagi Yojimbo, and they've worked with Stan Sakai to create a soft vinyl figure of Usagi. This figure is a compromise, providing the detailed sculpture and paint of a statue at an inexpensive price. An 8" resin statue would likely run $75 or more, but by rotocasting with soft vinyl plastic an 8" figure is created for much less. Stan Sakai designed the figure.

The figure is closer to a statue than an action figure, though it does have articulation. The shoulders, biceps, waist and ankles have twists so there is a little bit of variety to poses, though based on the sculpt there aren't a lot. The katana can be either placed in the sheath or removed and held at the ready, but the wakizashi is sculpted sheathed. It can be removed from the belt though.

Usagi is packed in a window box so you still display him while he's in the package if you'd like. The back of the package reproduces the design art used in creating the figure, so you can alternate which side you want to show off if you display it packaged. Or you can install an elaborate system of mirrors so you can see both sides at the same time. It's really up to you as to how much effort you'd like to go in your display.

You can end your own quest for Usagi at Things from Another World
, where you can get the vinyl figure. And check your local comics shop or Dark Horse Comics for current and back issues of Usagi Yojimbo.
Some fun facts:
The translation of Usagi Yojimbo is 'rabbit bodyguard'.
Sergio Aragones (the creator of Groo) is famous for his miniature margin cartoons that have graced Mad magazine for decades.
Usagi appeared on the Teenage Mutant Ninja Turtles cartoon and was an action figure made by Playmates.
Albedo is the fraction of incident electromagnetic radiation reflected by a surface, especially of a celestial body. Basically, it describes the whiteness of an object.
Usagi re-visited action figures courtesy of Antarctic Press.
Creator Stan Sakai is an actual Japanese import (born in Kyoto, Japan).
The average lifespan of a rabbit is 7-12 years. And they are considered Lagomorphs.
Usagi has been published by four different comics publishers - Thoughts & Images, Fantagraphics, Mirage, and Dark Horse.
Bushido is the code of the Samurai, and it translates to 'the way of the warrior'.
Tom Cruise will star in the movie 'The Last Samurai', though whether rabbits will appear in it is unknown at present.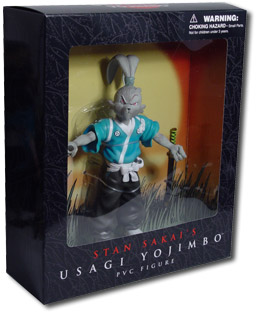 More pictures of Usagi Yojimbo
Where to buy Usagi Yojimbo: The Usagi Yojimbo vinyl figure retails in the $24.99 price range and is available at Dark Horse's partner site Things from Another World
, your local comic book store, as well as various online toy retailers.