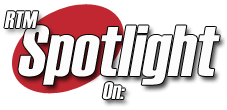 Lady Death Variant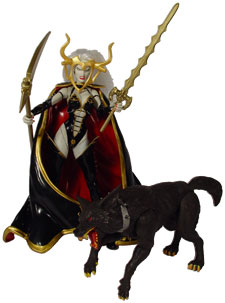 Hell hath no fury like a woman scorned, and this statement may be doubly true for Lady Death. For one thing, she may be hell personified offering the ultimate temptation without the possibility of achieving it. The other thing is that she's mad, very mad. Put these two together and you get a decent description of the new Lady Death variant action figure.
Lady Death is no stranger to plastic, as she has been made into several action figures (most of them made by Moore Action Collectibles). The latest versions of her have been produced by teaming up Art Asylum with Diamond Select Toys in the series of Dark Alliance figures based on the Chaos! Comics character. The lady appeared in the second series of Dark Alliance figures and that basic figure has been slightly altered as a redecorated figure.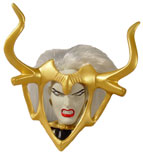 To say that all women are two-faced is a gross inaccuracy (well, not that gross) but for Lady Death it is actually true. One of the differences between this Lady Death and the one in Dark Alliance series 2 is the face. A new face has been sculpted which is an 'angry' face, rather than the more pleasant one previously used. Why is she angry? Anger to women is like sex to men - they don't need a reason for it, just a place.
To inflict her anger upon others she is armed and has a pet. The weapons are the same as her prior version, with a highly detailed sword and a huge scythe. Both of these are ready to kill anyone who just looks at her wrong. Her pet is the biggest change for this version, and it is a very nasty looking wolf. Looking fearsome is good, but being articulated while looking fearsome is even better, and this wolf has articulated legs and neck. He bites too.
Being as babelicious as Lady Death means you never need to speak, but not needing to be articulate doesn't stop her from being articulated. The articulation for the lady matches her other incarnation, with ball-jointed shoulders and an articulated neck, elbows, wrists, knees and thighs. She has a large black cape that isn't removable and hides her derriere (unless you're inclined to look under it) and she has rooted white hair. She's about 7 1/2 " tall (about 8 with her headdress) and she's built on a seven inch scale like all Diamond Select's action figures.
More pictures of Lady Death
Where to buy Lady Death: The Lady Death Variant action figure retails for about $13 to $15 USD and is available through your local comic book store and at various online toy retailers.

One such online store is RTM sponsor The Outer Reaches. (Be sure to check the other RTM sponsors, listed on the Shop Center.)