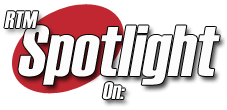 Bandai Teen Titans
Action Figures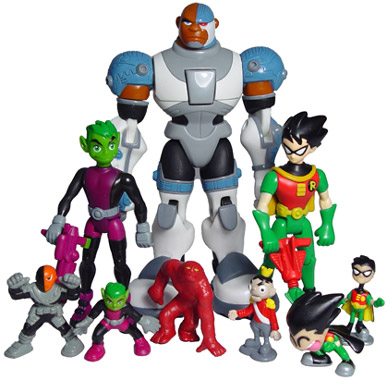 The quest to spin off popular concepts into other media is an ongoing trend in the entertainment world, and one of the hottest parts of it revolves around comics. With the recent successes of Spider-Man, X-Men and the Justice League animated show, it was only a matter of time before someone got around to making the Teen Titans into an animated series. And the perfect spot to air said show, would be the Cartoon Network!
The Teen Titans started out as a comics series for DC Comics, but it really became prominent during the run with Marv Wolfman writing and George Perez creating the art. While the comics run tends toward a gritty, serious approach (and featured more sidekicks than just Robin), the new animated show turns that on its ear. It is more of a rollicking good time, with teenagers who have as much fun playing video games and eating pizza as they do as superheroes (which you gotta admit would be a lot of fun).
The Teen Titans animated show is geared and aimed more towards kids than adults, and it follows that the toys are designed along the same line. This isn't to say some collectors won't enjoy them immensely, just that play value is a concern and so each figure is designed with that in mind.
This Spotlight is going to be more of a sampler than a complete entrée, taking time to look at three of the new lines from Bandai. Those three are the Comic Book Heroes 1.5" figures, the 3.5" figures and the 5" figures. Absent in this Spotlight are the vehicles in the Battling Machines and T-Vehicles lines that are designed for use with the 3.5" figure line. Coming in the future to join these are Command Centers (mini-playsets for different areas of the Titan's HQ), the T-Sub Deluxe Vehicle and a Teen Titans Launch Tower Playset (which will be in the 3.5" figure scale and also launch the Battling Machines).
All the figures are very sturdy in construction, and Bandai is really one of the few companies that has been able to have collector driven lines mixed with huge, mass-market lines and pull them all off successfully. After over a decade of making the best-selling line of action figures (yep, Power Rangers if you can believe it), they are easily able to apply those lessons learned to making the Teen Titans both fun and tough enough to be played with.
The initial wave of 5" figures covers three of the characters from the show - Robin, Beast Boy and Cyborg. Each figure has built-in action features, with Robin and Cyborg having action sounds while the Beast Boy can shape-shift. Last, there is the Super Deformed Robin, and he's kind of self-explanatory.

Cyborg is the focus of our Spotlight in the 5" variety, and he's clearly the muscle behind the Titans. He's part-man and part-machine, and so is the action figure. He's plastic, but when you press his chest in he yells 'Boo-Ya!!'. You'll see the holes in his back, and no - there aren't any kittens in there. They're just holes for the speaker, so you can hear his battle cry until you've satisfactorily annoyed other people.

Being a Cyborg has some advantages, namely the ability to swap out spare parts when needed. This ability is translated to the Cyborg figure by way of two arms - one with a hand and the other with a sonic cannon, when a longer reach is needed. The regular arm is articulated while the spare arm isn't, and they come on and off at the mid-bicep via a peg. Add in a handy communicator and a giant pair of boots, and he's set.

Articulation:
Neck (twist)
Shoulders (twists)
Mid-Bicep (twists)
Elbows (bends, not on Sonic cannon)
Thighs (swivels)
Knees (bends and twists)
Ankles (bends)
The smaller scale 3.5" figures are the perfect size to allow for the addition of playsets and vehicles, and both are part of the development of this line. The size also works fairly well with some of the other animated lines, like Justice League. It isn't perfect, but they've pretty close. Right out of the gate, the figures are available so you can start building your team. The first assortment is available in 2-packs, so you never have to worry about any figures getting lonely. They also cover the entire team in the first wave, with an extra Robin thrown in just to even things out. The pairs are Robin & Starfire, Cyborg & Raven and Robin & Beast Boy, the latter of which we'll examine more closely.

Robin is well known not only as the leader of the Titans, but he's also worked with some other comic character as his sidekick. It seems like it was Bat-something, but then there's the neon and lava rage to make it confusing. Beast Boy is less confusing, even though he started out as Chameleon in the comics, he only changes into beasts with his shape-changing ability (and they are always green, making them easy to spot) and he's a boy. An icky, icky boy.

The Robin and Beast Boy figures are clearly sculpted and designed to go with vehicles, so they don't stand as well as single figures. The articulation is similarly designed to allow for use with vehicles as the lower body has plenty of articulation and the upper is noticeably less. They both comes with a gun that can be held in either hand, and the arms are sculpted so they can drive their vehicles, though holding the guns looks a bit unnatural. Then again, what doesn't look unnatural when you have green skin and you're wearing a purple outfit?

Articulation (same for both)
Neck (twist)
Shoulders (twists)
Thighs (swivels)
Mid-Thigh (twists)
Knees (bends)
Comic Book Heroes 1.5" Figures

The final chapter of this feature is a look at the Comic Book Heroes sets of mini-figures. The concept is simply to take a comic book page, pick out a few signature panels and take the characters in them and create miniature pvc figures of the characters in that scene. There is also included a copy of the page as it originally appears and the packaging is designed to show off that page with cut-outs holding the mini-figures in the appropriate panels.

The figures aren't articulated, and they are very similar to capsule toys that are available worldwide. The best part about these is that you won't have to hunt to find a whole set, as each one comes complete with 6 mini-figures and a comic book page, so when you have all four sets you can put the whole story together. The figures are all scaled roughly around 1.5", so you can easily display all of them on one shelf.

The initial release has four Hero Sets available, and among them you'll get the whole team both as regular characters and as Super Deformed figures and a nice assortment of villains from the show. There's an image of the four assortments on the gallery page, and they break down as follows:

Set 1 - Raven, Super D Starfire, Mumbo, Beast Boy Pterodactyl, Battle Robin and Action Cyborg.

Set 2 - Plasmus, Puppet King, Super D Robin, Puppet Robin, Slade and Action Beast Boy

Set 3 - Action Robin, Beast Boy, Lightning, Thunder, Super D Raven and Trigon

Set 4 - Cyborg, Cinder Block, Robin, Super D Cyborg, Gizmo and Super D Beast Boy

Pictures of the 5" Cyborg

Pictures of the 3.5" Robin & Beast Boy

Where to buy the Teen Titans: The Teen Titans action figures are sold at most mass-market toy retailers, such as Toys'R'Us, Target, and Wal-Mart, as well as specialty and trend stores, and a variety of online toy and collectibles retailers. The price ranges are $5.99 to $7.99 for the Comic Book Heroes sets, $3.50 to $8.99 for the 3.5" two-packs, and $6.99 to $9.99 for the 5" figures.

Several such online stores are RTM sponsors The Outer Reaches and Corner Store Comics. (Be sure to check the other RTM sponsors, listed on the Shop Center.)