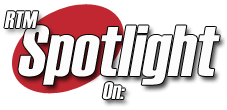 Street Fighter Round 4:
Akuma Action Figure
April 10, 2006
by George Colón
SOTA's Street Fighter action figure line has been consistent in being one of the most well produced, and well received figure lines in today's uneasy market. Asking the advice of their fans, SOTA produces a series of figures based both on character popularity, and fan voting. With each series SOTA continues to please the Street Fighter fanbase with amazingly accurate renderings, both in sculpt and design, of our favorite (and sometimes obscure) Street Fighter Characters.
Round 4 has recently started to hit Brick and Mortar retailers, and brings with it one of the most anticipated characters: AKUMA!
Akuma (meaning "Demon" in Japanese) has an interesting backstory, but let's keep it short and sweet. Akuma's past before his days of training in the deadly martial art of Ansatsuken (Assassin Fist) are shrouded in mystery. Akuma and his brother Gouken, leaned the Ansatsuken arts from Goutetsu, but Gouken would soon turn his back to the violent fighting style, and his brother. With his brother gone, Akuma vows to become the most powerful and knowledgeable Ansatsuken fighter there is. To this end he train alone on an island, honing his skills, till the day comes that he not only defeats and kills his teacher, but also his brother. It is by killing Gouken that Akuma gets the attention of one of the Street Fighter Alumni, Ken. As word spreads about Akuma we begin to learn more about his technique, and just how powerful he is. Akuma is a killer, but not for the sadistic purposes of seeing someone die, he simply believes that death should be the only outcome of a match. Akuma only looks for opponents that are powerful enough to beat him, as he welcomes the possibility of defeat. Although portrayed as a villain, he really is more of Street Fighter's Anti-hero. This is proven in his video game introduction on Super Street Fighter II Turbo, jumping in at the last minute, killing M. Bison, and determining you worthy to challenge him.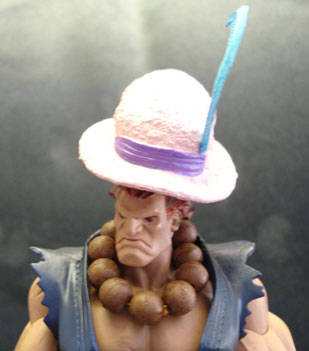 SOTA's Akuma figure is certainly worth the wait. It features the standard extra set of hand, having both fists and open palms. Akuma also comes with the standard extra head, in both angry, and "I'm going to rip you in half" expressions. Akuma is appropriately fitted with a removable beaded necklace, a necklace that he took from his teacher after defeating him. Last but not least is the piece of shiny red plastic, that simulates Akuma's Gohadouken punch, when fitted over his fist.
Akuma's paint application would be difficult to fudge, I mean, the majority of his paint needs are the dark blue gi he's wearing, but SOTA adds some darkening details that really bring out the folds in the sculpt. On the back of Akuma's gi the all important Japanese symbol for the number 10, which literally means "sky" or "heaven" translated to English, but no one is quite sure what it means to Akuma. The paint details on the head, face and hair are also very well done, adding lots of texture to the amazing sculpt.

Akuma features 32 points of articulation:
Neck - ball-joint
Shoulders - ball-joints
Biceps - twists
Elbows - hinges
Wrists - twists and hinges
Chest - limited hinge
Waist - twists
Thighs - ball-joints and twists
Knees - double hinge joints
Ankles - hinges
Leg at Pant Line - swivel
Mid-foot - swivel
Toes - hinges
Click to see pictures of Akuma in action