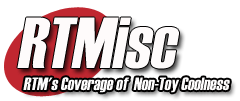 Thor's Hammer
&
Winged Helmet Set
Stop.

Hammer time!!

Enough with the obvious joke, now on to the main attraction. That attraction being the head and hand gear of one blond haired god. No, not Brad Pitt's gear from Troy, but rather from a northerly clime and an actual god.

Thor is known not only as the Norse god of thunder, but he's also a founding member of the Avengers and has long been one of the stars of the Marvel Universe. Add to that his semi-appearance in Adventures In Babysitting (played kind-of, sort-of by Vincent D'Onofrio) and you have a bona-fide Marvel legend.

Thor's gear does serve some useful purposes for the thunderer. His helmet looks majestic and scares away pigeons in addition to keeping his long locks picture perfect and out of his face. The hat definitely helps make the man, but the hammer is where it's at.

Thor's Hammer Mjolnir (pronounced mee-yol-neer and meaning 'crusher' or 'that which smashes') was created by Thor's dad Odin, the leader of the Norse gods and a snappy dresser. Well, he didn't make it himself but he did have some of his buds create it and he figured that it would help Thor spread the word.

Mjolnir is chock full of cool stuff to aid anyone in a fight. However, it comes with security and that is in the form of an excalibur test. If you aren't worthy you can't pick it up, no matter how hard you try or how strong you are. Them's the rules, as Thor did discover when he ran into Beta Ray Bill, who ended up just as worthy - if not more - than Thor himself. It also has a homing beacon in that whenever it is thrown it will return to the thrower's hand. It can also be used to open up inter-dimensional rifts for travel and when you get hit by it, it really hurts.

Thor's hammer was made of mystic Uru metal, but due to current import/export laws making the replicas out of that wasn't possible. But the hammer and helmet are made of actual metal, and the hammer especially has some real weight to it. The helmet does have a post in it for mounting to the stand and so it can't really be worn, even by those who are 18 inches tall and in scale.

The hammer itself is about as perfect as you could expect. The stone finish looks great and the handle is actually wrapped with leather and can even be supported by the loop at the end of the handle (though I wouldn't recommend leaving it that way or twirling it around in hopes of creating an inter-dimensional doorway). Last, and far from least is the inclusion of the text on the hammer from the first modern appearance of Thor - Journey Into Mystery #83. With a mirror you can read the same text on the faces of Thor's foes.

The base is designed with a Norse aesthetic and has the helmet mounted atop it while the hammer rests on solid beams, waiting for the worthy. The stand looks like the back of a regal throne, adorned with both horses and dragons and resting on a faux stone base. Overall you'll need a spot about 4-5 inches square (each side) to display the base and just over a foot for the height of the piece.

This is the first in a line dubbed 'Marvel Archives' from Sideshow Collectibles, and this information is enough to figure out two things. First, this and future additions won't be cheap. Second, they will totally be worth it. Sideshow has built a reputation for making outstanding collectibles, from 12-inch action figures to busts, statues and replicas and these are no exception.

This quarter scale replica was only available at the 2005 Comic-Con International in San Diego, and there were only 500 of them made. For right now, eBay is your best bet to get one, and you may want to start searching. This is simply the first in a planned line of replicas, one that will hopefully reach the size of alternate future Rick Jones's collection from Hulk: Future Imperfect.
The base has the edition size on the bottom and is individually numbered. The base also lists the sculptor for this piece - Pablo Sapia of the Gore Group. Sideshow has always made a great effort at crediting the artists that create their products.
What's next? The box mentions two other replicas - an adamantium laced skeleton and high tech armor. If I were a betting man, I'd expect to see at least one of these in the near future. And we can't wait...
More Pictures of the Thor Set
Where to buy the Thor's Hammer and Winged Helmet Set: This piece was limited to a run of 500 and was sold only via Sideshow's web site as an exclusive for the 2005 San Diego Comic-Con International. Try checking on eBay if you were not able to get this set at the convention.