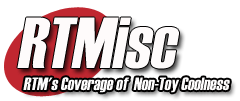 Premiere Collection
Emma Frost Statue
From Eve to Helen of Troy to Martha Stewart - history has shown us that it's all about the women. For comic and toy collectors, it's nearly the same with an attraction to the fairer sex, especially as they appear in comics and toys - idealized and exaggerated. A great of example of idealized and exaggerated is the new Emma Frost statue from Diamond Select Toys. And she's blonde, so you know she has more fun!

Emma Frost rose to the top of the business world not through the boardroom or the bedroom, but rather through the head room. She's smart, sexy and charming but being able to read people's thoughts and to influence them gives her a huge advantage over pretty much anyone. And she had no problems using her natural abilities to become head of a huge corporation.

But what she really wanted to do was teach, and she used her power to become Headmistress of the Massachusetts Academy. And as a side note, isn't headmistress a great word - two great words that go great together. However, we digress to our reptilian brains and so with a school under her, Emma took the chance to recruit some mutant students to help her get even more power.

Emma also attracted the notice of the infamous Hellfire Club, and she was tapped to join their Inner Circle. She eventually took on a leading role as the White Queen and this frequently brought her into conflict with the X-Men. Conflict was also part of her relationship with the time-traveling terrorist known as Trevor Fitzroy, and her battles with him left her students dead and herself in a coma.

The X-Men, being better people than she was, took her in and cared for her school (as she requested). While in her coma, an accident led to her switching minds and bodies with Bobby Drake (Iceman), but they eventually got their wires uncrossed and returned to their proper bodies. From there she left to take over her school again, with the help of Banshee.

Today she works with the X-Men, and everybody loves a bad girl turned good since you know she's still kind of bad inside. With changes to her powers though, she isn't always such a nice person and she really can't be truly numbered among the good guys.

The character has undergone significant changes over the years since she made her first appearance in Uncanny X-Men #129. One of the larger changes seems to be her physical appearance. Artist John Byrne drew her as a thin and athletic woman, who didn't entirely fill out her skimpy queen's costume. Today she's as anatomically improbable as most women in comics. The modern Emma Frost may not have telekinesis, but you might think it from her costume, which has changed from Victoria's Secret to Lil' Kim.
Her powers have changed as much as her body. She started as a powerful telepath, with the ability to read and influence other people's minds. She still retains her psionic abilities, but she has something new in her bag of tricks. Due to continued mutation (kind of like continuing education), she can assume a diamond-hard form (and she seems to be able to project some of that hardness on any men who see her). When she is in her nearly indestructible form she loses her psionic abilities and pretty much any compassion or humanity she has. And they wonder why women are so frustrating to men...

This statue is part of the Premiere Collection from Diamond Select Toys, a line that is all about the girls. It was announced at the Comic-Con International in 2002 with Clayburn Moore coming in to sculpt four of Marvel's popular and sexy women - Black Cat, Emma Frost, She-Hulk and Rogue. Only the first half is being done by Clay (Black Cat and Emma Frost), and each has two versions of the character - a modern and a retro look. There is also a Spider-Man statue (Done by Moore) to add to the line, and there are plans for a She-Hulk done by another great sculptor of the female form.

The statue itself comes with a rose covered base (and be careful, they are fragile roses) that is weighted to keep the figure standing. It balances out her top-heaviness. The figure of Emma Frost attaches to the base through two metal bars in her feet that fit into pegs, and she's nearly ten inches tall (with another inch due to the base). The statue wears sexy clothes, has a killer body, gives you that 'come hither' look and she never talks back. What's not to like!
For Emma Frost, her modern look is in a costume designed by Frank Quitely and based upon the art of Greg Horn. The retro figure is dressed in her sexy White Queen outfit, as she originally appeared. For the modern version there is a 5000 piece run, and the sculptor for the statue is none other than Clayburn Moore.
As Michelangelo created the perfect male figure in his 'David', so has Clay Moore created some of the most attractive women in plastic this side of Beverly Hills. His skill as a sculptor is put to perfect use in creating Emma along with the previous two Premiere Collection statues of the Black Cat. The sad part about this line is that the Emma statues look to be his last female entries into it, leaving a tough act to follow.
More Pictures of Emma Frost
Where to buy the Modern Emma Frost Statue: This piece is limited to a run of 5,000, and retails for about $150 USD. You can find it at your local comics shop and various online retailers.