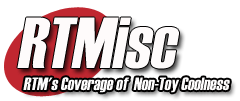 Gloria Glad
Mini-Maquette
For every man who has money, there is always a woman close by. If you are a Texas billionaire, you could have Anna Nicole Smith (who really used to be hot), but if you are Richie Rich, you have to settle for someone younger (and whose right cheek isn't bigger than his whole body). That woman is Gloria Glad, and you'd have that last name if you were hanging with the poor little rich boy who could buy several small nations.
Electric Tiki has chosen Richie's girlfriend as the subject for their second Teeny Weeny mini-maquette, which makes the perfect companion piece for their Richie mini-maquette. She suffers from the same form of gigantism that Richie has, which results in a very large head (so she's top heavy, and not in the usual way). Eventually Richie's dog Dollar will join the pair, but until then they'll be alone and have the chance to get busy.

See the Big Picture

Gloria Glad is about five inches tall, and is actually a wee bit taller than Richie Rich, due to her hair, which is arranged with fluffy bangs. On the Richie maquette, his red bow tie was the prominent feature, but on the Gloria maquette, it is her reddish hair. It falls to about the middle of her back, with a bit of a wave at the bottom and a purple bow. Her outfit is a white shirt with puffy sleeves and a red and black plaid skirt. She has white socks and black mary jane shoes. A simple outfit, but this serves to call more attention to her fiery mane.
Gloria's arms are outstretched with her hands clasped, and she is looking off to one side. This pose, combined with the shape of her hair and the flair of her skirt, make her appear frozen in time, as if she has been captured in mid-twirl. Perhaps someone behind her has called her name and taken her by surprise, or she is fidgeting after being paid a compliment.
The Gloria Glad mini-maquette is a limited edition of 1,000 numbered maquettes (with another 50 artist proof versions, also numbered). 750 of the regular production run will be painted as shown in this article, in her traditional outfit with purple hair bow, and the other 250 will be painted with a red hair bow. (There is a sticker on the variant box, to distinguish them without having to open the box.) Each maquette is hand-numbered, on the bottom of the base, on the bottom of the box, and on the certificate of authenticity. The box is colorful and is laid out as though it is the cover of a Harvey comic. Tracy Mark Lee handled the package design and design of the maquette, which was sculpted by Jim McPherson.
The Gloria Glad maquette is available directly from Electric Tiki Design for $45, or from several other online retailers.
More Pictures of Gloria Glad