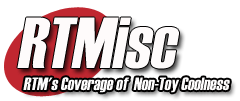 Earth X Thor Bust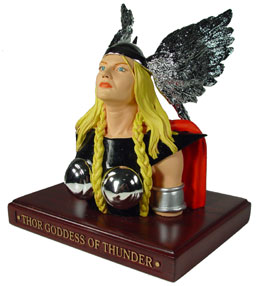 Fire is one of man's greatest discoveries, a discovery that was no doubt precipitated by lightening and thunder. To cope with the lights and sounds in the sky, early man personified the forces of nature in his own image, to help understand the world. The early Norse peoples choose thunder for the basis of one of their most powerful deities - Thor. Thor was a tall and strong being, and since men often devised these myths he was a man. Leave it to the modern age to perform a gender-bending character twist changing the thunderer to a thunderess.
The story of Earth X is that of an alternate future for the Marvel Universe, one where everyone has super-powers (well, except one man) due to a virus. In this world many of the familiar heroes and horrors have changed into wildly different versions of themselves, and Thor was unable to avoid the turning tide. Thor still has a mighty hammer, long blond hair and wears a helmet, but the breastplate has been filled while the shorts have been emptied.

See the Big Picture
Loki (Thor's half-brother and ever the deceiver) has always endeavored to embarrass and defeat Thor, partly from sibling rivalry and partly because he's just plain evil. Loki has been telling his lies to Odin, the lord of Asgard and the father of Thor and Loki, and convinced the all-seeing (who no longer sees all) that Thor needs another lesson in humility. The first lesson was when Odin decided to place Thor in a mortal body so he could learn humility from a mortal point of view. Doctor Donald Blake 'discovered' Thor's hammer and became Thor, though he didn't realize he was always Thor anyway, just in mortal form.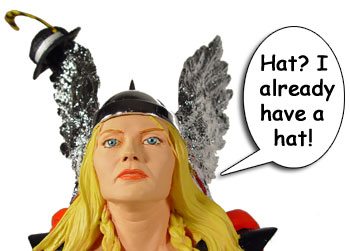 Since Odin was led to believe his first lesson didn't take, and wanting to be a good father with a son who grew up right, he eventually caves in to Loki's advice for a second lesson. Since being mortal at times didn't seem to work, he decides to make Thor a woman. The object lesson of making Thor an object of desire was to teach him a lesson once men started lusting after her. Being a very tall, perfectly muscled Viking man with long blond hair probably means many men lust after him anyway (and not a few women), but it seems that was lost on him and so it was done. With a nip here and a boost there, you go from god to goddess.
The Earth X license is exclusive to Dynamic Forces, and working with Earth X architect Alex Ross they have created a line of busts to celebrate that corner of the Marvel Universe. To join Earth X Wolverine, Captain America and Venom (also now a she), they have created a bust of the busty goddess of thunder Thor. The bust shares the same basic design with other ones in this line, with the same classical static posing and faux wood bases with raised letters naming the character.
The bust is nearly seven inches tall to the tips of the wings on the helmet, and the fully painted piece has metallized wings on the helmet. The bust is done is a larger scale than either Bowen or Diamond Select for their Marvel sculptures, so it will stick out with them but fit right in with the rest of the Earth X line from Dynamic Forces. The helmet and breast pieces look like they are polished metal and in the high shine you can see yourself. Dynamic Forces has no control over what that reflection looks like, so don't blame them if it isn't as nice as the bust you are staring at!
Alex Ross is the driving force behind Earth X, and he supervised the sculpting of this bust (he's so busy he can't sculpt everything). Alex designed the piece and the entire line, and made great efforts to ensure that the piece was accurate, properly scaled to other pieces and realistically proportioned. Well, mostly realistically proportioned since Thor's endowment seems more in the realm of improbable (or Alex meets very different women than we do).
Mike Hill was the sculptor who translated Alex's vision (with plenty of hints) from paper to clay. Dynamic Forces directed many people in translating the sculpture into a number of 2500 identical copies, numbered them on the bottom, and then directed more people to pack them lovingly in Styrofoam. They even had them create a bronze version of the statue exclusively for Previews, but it costs a little more and was made in less numbers. The regular version of the bust retails in the $45 USD price range, and is available at the Dynamic Forces web site, your local comic book store, and a variety of online toy and collectibles retailers.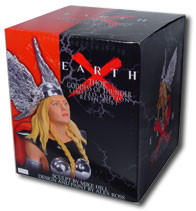 More Pictures of Thor