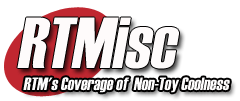 Ultimate Unmasked Spider-Man Bust
One thing is clear about both Batman and Spider-Man in toy form - they make plenty of variations on the theme. So why would resin mini-busts be any different? They aren't as far as Spidey is concerned as Diamond Select Toys has teamed up with Tower Records to bring a variation of epic proportions - the Ultimate Unmasked Spider-Man mini-bust!
This bust is nearly identical to the Ultimate Spider-Man bust that had been released previously. The pose, body, base, sculptor and Styrofoam have all been used again for this bust, but the key difference is the head. Now you can see the new Peter Parker (newly updated to the 21st century via the Ultimate Spider-Man comic book) with his slightly wild hair.
The bust has brown eyes, although the bust pictured on the certificate of authenticity has blue eyes - it must be those radioactive color-changing spider eyes! A quick check of a recent issue of Ultimate Spider-Man reveals Peter's eyes to be... brown.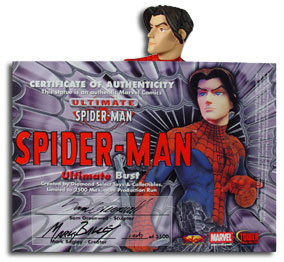 The regular masked version of this bust was limited to 10,000 pieces (with a limited edition of 500 pieces without webbing), but this Unmasked version is limited to just 1200 pieces. The box and certificate of authenticity both are printed with the number 2500, but due to timing in the production, there are only 1200. (Actually, they say "limited to 2500 maximum production run" - so 1200 fits that classification.)
Sam Greenwell did the sculpting honors while Mark Bagley helped with the design, based on Spider-Man created by Steve Ditko and Stan Lee. Sam and Mark were both created by their parents who decided not to opt for credit on the box. You can get this bust exclusively at Tower Records stores across the country or via the handy Tower Records website
. It will run you $29.99 USD, but so will the regular version of this bust, making for a nice change of pace that a limited edition exclusive version is not more expensive.

See the Big Picture
More Pictures of Unmasked Spider-Man