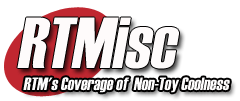 Conan the Conqueror Mini-Bust
Sometimes you have to wonder if civilization is overrated. In the 'civilized' world that we dwell within we have corporate leaders stealing their employees' retirement benefits, tyrants killing their own people, and The Anna Nicole Show, all of which lower the bar for social evolution. One man who never claimed to be civilized seems to live by a simple mantra - wine, women, song and some fighting (but mostly he'd like wine and women). He is Conan, the Barbarian (with a capital B).

The first thing to pop into most people's minds when they hear Conan is an image of Arnold Schwarzenegger in a loincloth hearing the lamentation of his enemies' women. However the character is much older than the movies, and even older than Arnold himself. Conan was introduced in late 1932 in a tale entitled 'The Phoenix and the Sword' published in Weird Tales. The author was a man of only 26 who grew up not in ancient lands but Texas, a man named Robert E. Howard.

The character of Conan was a Cimmerian literally borne on a battlefield, the son of a blacksmith. He honed his body and lethal skills by hunting wild animals and in battle with other men. He's the type to fight first and then ask questions, but by no means is he stupid. His nature is more like that of an animal, and while this may make him seem uncivilized it actually gives him a purity that hasn't been tarnished by the decays of civilization.

Conan is definitely a man who lives in the now, but he clearly also carries a destiny of greatness. The tales of his adventures show him maturing from a wenching wild man into a leader of men. He eventually becomes King Conan, ruling the greatest power of his time, but he has a lot of fun and adventure along the way.

The original Conan stories were written over only four years and the initial pair of yarns were based on an earlier Howard creation - King Kull. From that genesis there were eventually 22 stories written about Conan (out of over 300 Howard had written), ending with 'Red Nails'. The ironic thing is that the Conan stories didn't stop because Howard ran out of ideas nor had writer's block, but simply because his publisher owed him money and he wouldn't write any more stories until he was paid what was due. It seems some of the mercenary ways of Conan came from his creator! To add tragedy to irony (it makes a bitter stew), Robert Howard committed suicide two days after his mother slipped into a terminal coma in 1936. He was 30.

Something that didn't die with Howard was Conan, and Dark Horse has stopped the conqueror in the only way they could - by making a bust of him. Conan is in mortal combat with a giant serpent, combat in which Conan is enjoying the advantage. The scars that mark the skin of the serpent and tattoo Conan's bronze hide bear witness to a mêlée in which both gave as well as they took.
To capture Conan's rough-hewn power, Dark Horse has invoked the sculpting talents of Jeffrey Scott. Jeffrey is known for his work at Gentle Giant Studios and also sculpted the Conan the Slayer bust. Dark Horse has two soon to be released busts from Jeffrey - Valeria (in July 2004) and Shi (on sale in August 2004). He's been able to capture the savagery of the Cimmerian along with the wounds that he wears as medals of honor. The paint work shows subtle shading over the tanned skin of Conan, the signs of blood and scarring and almost seems to show the man sweating. The base is integrated into the overall design by using the constricting coils of the serpent, and this is an excellent design.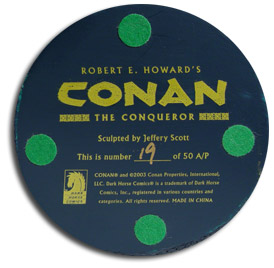 The bust is presented in a limited run of 3500 pieces, each numbered both on the base and on a certificate of authenticity. The bust is larger than many others available so you may want to set a little more space available for it. The scale is larger than the busts from Bowen, and roughly the same as Diamond Select and Gentle Giant.
Dark Horse is working on plenty more Conan-related products, and this is the second mini-bust of the barbarian. They are also publishing a regular comic series written by noted comics author Kurt Busiek and with art by Cary Nord. They have been re-printing some of the classic tales from Roy Thomas at Marvel on Conan (called the Chronicles of Conan), including issues by John Buscema and Barry Windsor-Smith. You may want to have your local comics shop save you a copy. Valeria will be joining Conan in July 2004, and there are more statues and busts planned for the future.
More Pictures of Conan the Conqueror
Where to buy Conan the Conqueror: The Conan the Conqueror bust is a limited edition of 3,500 and retails in the $49.99 USD price range. It is available through your local comic book store, as well as various online toy and collectible retailers such as Things from Another World
.