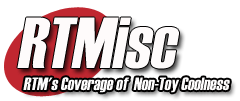 Arwyn & Kreeg Statue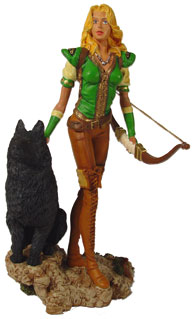 Comics and fantasy are both popular genres of late, dominating movie screens across the world with the Lord of the Rings, Harry Potter and Spider-Man setting record after record. Combining the two seems to be a no-brainer, but over the years this merger has met with varying results. One example of this has met with results that have been widely praised, and the company that did it isn't Marvel or DC Comics, but Crossgen with Sojourn.

Sojourn has many of the elements of classic fantasy, with an epic quest and heroes set against villains for the fate of the world. The world in this case in the planet Quin, where an ancient evil warlord - Mordath - who was once defeated has returned. Since his defeat he's wanted a re-match since he lost to that 'lucky shot', and he's back with an army and a powerful sigil (one that bears a remarkable resemblance to the symbol for Crossgen Comics) to restore his former conquests.

When trying to conquer the world you're bound to find a few people who don't want to give it up, either because they want it for themselves or because they just don't think you should get the job. Since Mordath wasn't known for his parties, he's unpopular and rather mean. So to stop him from achieving his conquest, this time around some of the people of Quin have taken on a quest to find the mystical weapon that can end the game once and for all. Until the next time, anyway.

Arwyn just wanted to live her life in peace, with her husband and daughter. Unfortunately, Mordath's desire to conquer the world ran a bit counter to that, and when his forces kill her family it has consequences. One is that Arwyn really has issues with Mordath, and she dedicates her life to vengeance and his destruction. It also means she single now, and since she's pretty hot that could be a great opportunity for someone. To destroy Mordath and save the world, all she needs are the five fragments of the arrow that had previously slew him. Since they aren't just lying around outside her house, this is where the epic quest comes in.

Since heroes can always use sidekicks, Arwyn needs a travel companion who can help in a fight and is housebroken. She's found the perfect friend in Kreeg, the dog she raised from a pup after getting him from her husband. Kreeg keeps an eye out for her as well as himself on their journeys, and he does it without the need for Scooby snacks. It must be a dog's life, because Kreeg gets to hang out with (and be petted by) a gorgeous woman and he can lick himself.
Most men want to take Arwyn home, and they also love dogs, so Dynamic Forces may be your new best friend. The first in their series of CrossGen Comics statues is Arwyn from Sojourn, to be followed by the equally attractive Ashleigh from Scion. The statue is six and a half inches tall with a slightly shorter three inch Kreeg. The scaling of the sculpture can fit in with some six to seven inch scale action figures, so you can set up a display with this amid some your toys. The figures are posed looking over the scenery on an earthen base. Dan Lane painted the original sculptures by Vincenzo Cucca and Ciro Vignef and he has the easiest name to spell and pronounce. Use it in hangman though, and you'll probably lose.
While there be one Arwyn and Kreeg, Dynamic Forces has enlisted the army of people who work in the ancient land of China to use the magic of mass production to create a mass of gorgeous blonde women without the use of silicon implants or a hair stylist. There are 1500 of these available, and since you can't get tiny blondes at the pound like you can black dogs, so you may want to decide quickly. All the pieces are numbered and they come packed safely in Styrofoam - the packing material of champions! It's also the packing material of the Chinese; just don't eat it because there is no fortune inside except 'you will get a statue'.
More Pictures of Arwyn & Kreeg
Where to buy the Arwyn and Kreeg Statue: This statue retails in the $89.99 USD price range. It is available through the Dynamic Forces web site and at comic book stores, as well as various online toy and collectible retailers.