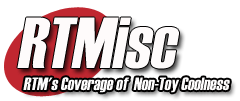 Battle Armor Thor Bust
Every comics hero has a creator who defines who they are. With any hero that makes a lasting impression and achieves longevity, they invariably have another creator who is able to redefine that hero for a new generation. In this case, the former creators were Stan Lee and most importantly Jack Kirby while the latter would be writer/artists Walter Simonson. If you haven't figured it out, the hero is the Mighty Thor, who's been a staple of the Marvel Universe since his first appearance in Journey Into Mystery # 83 from the late 60's, and a staple of Norse mythology for just slightly longer.
Thor's emergence into the modern world began with Donald Blake finding Thor's Hammer Mjolnir (pronounced mee-yol-ner) hidden in the form of a cane in a cave in Norway. Once he struck a boulder with the cane it transformed itself into Thor's mighty hammer, along with transforming Blake into the physical embodiment of Thor. There were even convenient instructions on the side of the hammer to let him know what had happened, in case he was confused. From there Thor stopped an alien invasion (they were big way before 'Signs' came out) and went on to fight a variety of threats to both Midgard (Earth) and Asgard.
In the 80's, Walt Simonson came on board as the writer and artist for Thor and he had a few changes. His very first issue had Thor lose his hammer to another hero who was every bit as worthy as Thor (and even bested him in combat). To take an icon and turn him on his ear for the first issue really shook things up, and that new version of Thor - Beta Ray Bill - would eventually take his place in the pantheon of Asgard as a hero and suitor of Sif, a former flame of Thor. That might seem a tough act to beat, but as Simonson's run unfolded Thor was changed into the 'Frog of Thunder', faced Ragnarok (the Norse version of the end of the world) and ended with Thor locked in battle with the world-girding Midgard serpent for the fate of the earth. The last issue is remarkable not only for the outstanding art, exciting story and fun sense, but Walt Simonson told that tale in classical verse, to mirror ancient tales from the Norse people. Would you know more?
Along that run, Hela, the goddess of death, cursed Thor with having brittle bones and losing the ability to heal. Thor quickly found himself in trouble, but he fashioned a suit of battle armor from Asgardian Steel to protect himself as he fought on and eventually defeated Hela and had her remove the curse. You'd think she would just curse him to die, but that would have been much less dramatic, though if the death of Superman was any indication, could have boosted sales.
Designer Dana Perkins chose this version of the Thunder God for creation as an exclusive bust produced by Dynamic Forces. Tony Cipriano, who has a long career in sculpting toys and statues (including Stark Raven figures, bookends for Bowen Designs, and other work for Dynamic Forces) was tapped to create the vision of Thor. The figure uses the classical version of a bust with no arms and shows Thor garbed in his armor along with his blue scale and silver helmet. The wings for the helmet come packaged separately from the bust and so they need to be attached (the dreaded some assembly required), but it's a simple and easy process.
The base of the bust is designed as a stone block with an embossed image of Mjolnir upon it, and Dynamic Forces places numbering information on the bottom of the base. This bust is done in a 1:4 scale, which means it's a whopping ten inches from base to wingtips. Dynamic Forces manufactures their busts at a larger scale than either Bowen or Diamond Select, so you get a larger bust than from the other companies, which is why they tend to be more expensive. The wings are metallized and go well with the glossy metallic look of the armor for Thor.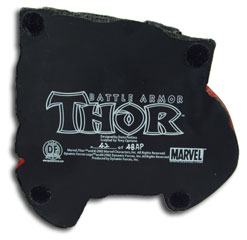 The figure comes packed inside a Styrofoam cocoon, which is encased within colorful packaging that shows off the piece. The sides of the box have reproductions of two covers from Walt Simonson's run on Thor that showcase the battle armor - Thor # 278 and # 282 (which was the 200th issue of the comic with Thor in it). Unlike Mjolnir, if you throw the bust it will not come back and it isn't indestructible. You've been warned!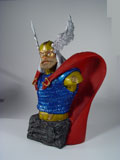 See the Big Picture
The bust is an exclusive to John's Toys and retails for $89.95. (It is also available at the Dynamic Forces site for a bit more. The edition is limited to a run of 1000 pieces world-wide. The Asgardian run hasn't been decided yet, but the shipping will kill you if you order it from them. Just try Rainbow Bridge Delivery, they're in the book.
More Pictures of Thor