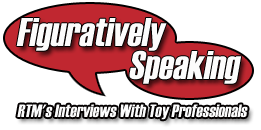 Figuratively Speaking
with Damon Nee
of Toy Biz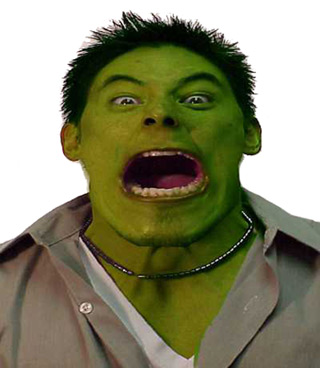 RTM recently had a chance to talk with Damon Nee, a Senior Product Manager for Toy Biz and also one of the creative forces behind Marvel Select from Diamond Select Toys. When he's not enjoying wrestling he's making some of the coolest toys around. If you attend the 2005 Comicon International in San Diego you can stop by the Toy Biz booth (part of the Marvel booth) and tell him what a great job he's doing. He'll have his sidekick with him too! Let's see what he has to say...
RTM: How about a little background?
Damon: I've been with the company for ten years, ten years this past March. I started as a designer here and worked my way up into product management. The very first product that I managed was the original X-Men gift box, the one based on X-Men #1 and from there it's grown into a ton of work.
Right now I'm working on continuing the Lord of the Rings products, Total Nonstop Action (TNA) wrestling action figures and Marvel Select. I have been a part of the Spider-Man And Friends line since it's inception.
Some of the stand out items that I have developed are the 18" Spider-Man from the second movie line, The Hulk Hands as well as their newer incarnation the Thing Hands and Thing Feet. I have also handled the development of the deluxe action figures (roto) for Spider-Man, Hulk, FF, LoTR (including the Fell Beast) and X-Men.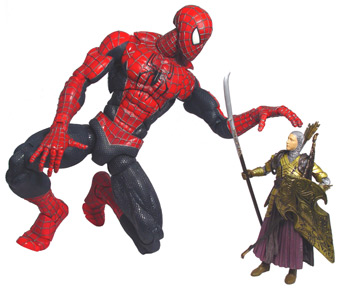 RTM: Roto seemed to be the best way to go with the Lord of the Rings larger figures over the cloth and rooted hair.

Damon: The biggest advantage to the consumer is cost. Most retailers offer the roto figures for under 10 bucks. As for the hair, it is very difficult to capture a good rooted hairdo, especially with shorter or curly hair.

RTM: You've been working on Marvel Select since the beginning, correct?

Damon: When we first started the line it was split between Jesse (Falcon) and I, and Jesse was getting bogged down in Marvel Legends, which was his outlet for his Marvel geekdom. I needed my outlet for Marvel geekdom so it made more sense if I just took it over so he could focus on Legends and I could satisfy my own Marvel geek ache!

RTM: So about at what point did the line become just yours?

Damon: Uhh, I'm trying to think of the last one he did. The last one he might of done was either Origin Wolverine or Ultimate Wolverine - one of those two was his last. With only one guy on the line it streamlines communications with Chuck (Terceira at Diamond Select) and with the Orient.

RTM: I know character selection is collaborative. But you have input in character selection, correct?

Damon: It's really a group effort. We look at who the fans like to see, and we work with Chuck to create wishlists. Our designers here are all obviously big fans of Marvel, and we submit our lists to Chuck to see what his feelings are, and he gives us his thoughts. We look at trends as to which comic books characters are hot and run polls to find out who the fans like to see. And that's how we come up with who we're going to do next.

RTM: Okay, I'm going to hit you with the scale question. Are you going to change scale to something closer to Marvel Legends since there are so many of those figures now, or will you continue to be a little different with the scale as it is now?

Damon: This line was never meant to be a companion line for Marvel Legends. That's not the way it was defined when we first started working on it. Unless Chuck asks to change scale, we're going to keep going with the scale as it is.

RTM: Now take Thanos, he's just over 8"?

Damon: Hang on a second and let me check the prototype. Let me see if I can get him to stand at attention... Yeah, he's like eight and half inches. I'm looking at an EP* sample, which looks very much like a test shot but it's been cleaned up a little bit and the articulation works a little better. This is a really cool looking figure.

*Editor's Note: EP means an Engineering Pilot, a later stage prototype. They are used to debug problems with the figure and for packaging tests.

RTM: Early in the line these were designed more as a figure and a diorama, while lately we've seen figures that are more like a two-pack. Has that been kind of a design change?

Damon: We have used famous cover images in some instances for inspiration. This is where the Classic Green Goblin concept came from- the cover of Amazing Spider-Man # 39. Basically, our concept was done and so the Goblin and Peter Parker tied up just worked out very well.

I don't think it's a conscious effort to go with a base or a companion figurine, but just trying to create a different approach for each figure.

RTM: So what's a difference in the way you approach Marvel Select compared with a mass market action figure line?

Damon: You need to keep your target audience in mind. Mass market means kids. The Marvel Select line means the audience is the Marvel Comic fan. To make a product for the fans you need to focus on the history of the character and try to base the concept for the figure around the character. Like how we approached Thanos. His accessory is Lady Death and adding - I don't know if anyone saw this at Toy Fair in February* - but Lady Death has a little mask that goes over her face. And that's a little nod to the Infinity Gauntlet books.

*Editor's Note: This mask wasn't in the Toy Fair display.

RTM: How about the difference in working on an assortment versus an individual figure?

Damon: What's nice about working on one figure at a time is the fact that you can focus on that one figure. When you work an assortment of five or six figures, your attention gets diverted in five different directions. For Marvel Select I can get all my attention on that figure.

RTM: One difference is that with Marvel Select you have a completely new sculpt with every figure as opposed to re-using parts. How does this relate to working with the sculptors?

Damon: What we're trying to do with the sculptors is giving them characters that they really like, that way they can really get into the sculpture. Like Phil (Ramirez) who just sculpted Thanos, he loves the character so he really got into it. And I think you'll be able to tell when you get the figure in your hands that the sculptor had a love for the character.

There's more life in a figure or character if you can start all over again rather than trying to re-use some parts. They don't have to work around something existing and can change movement and stance and attitude for that figure per the character. Rather than taking say, Iron Man's torso and trying to work it into Elektra - there's just some things you can't do, and when you're forced to work like that because of tooling constraints or cost constraints you might suffer in the end. This way we can cater the whole sculpture to the character.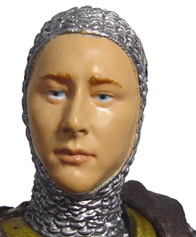 RTM: So which sculptors are you now working with on Marvel Select?

Damon: Besides Phil, Steve Kiwus and Sam Greenwell have both contributed heavily to this line as has Shawn Nagle. There's always the possibility of using other people. I always collaborate with Chuck in regards to the sculptor, he likes to contribute as to who works on a figure. We look at a sculptor's strengths and likes and try to keep them happy and make everyone happy in the end.

RTM: As far as articulation, it has increased since the very early figures. What has contributed to some of the changes and added articulation?

Damon: I'm a fan of movement, and the more we can get in there the more playable the figure. At the beginning we were kind of going for the more statuesque approach, but I think we can create a figure that looks great that can be a statue but still can be played with without damaging the aesthetic. And with the articulation I don't think we're harming the look of the figure but we're increasing the playability of it.

RTM: Is Marvel Select is going to go into boxed sets with multiple figures?

Damon: Not that I know of, and not that we have planned.

RTM: How would you summarize your approach when designing something, to give people an idea of the way you work?

Damon: I just try to distill the character to their essence. The Black Cat for example is a thief, so we gave her the diorama that portrayed her as a thief. We kept her sexy and had Spider-Man involved in it and that's how that one worked out.

RTM (laughing): Did Kevin Smith ever finish that?

Damon (laughing): No, not that I know of. I was enjoying the series too, and then it just kind of fell off.

For the White Queen we were trying to think of what to do for her and I recalled the trading card that Jim Lee drew way back when. And it worked out well because it had that Hellfire flavor to it, going back to her roots. But it also kept a more current look for her, something that worked out in creating her figure.

For She-Hulk and the Green Goblin we looked at covers to work out those ideas. We look at the comics and the essence of the character and that's how we pull together what we're going to do for execution of each figure.

RTM: How has your experience been working with Diamond Select?

Damon: It's been a pleasure. They're fans of the product, and they're passionate and easy to work with and great to communicate with. It's been a great experience.

RTM: What are some of the figures that have been the most fun for you to work on personally?

Damon: Thanos has been great. I really liked working on Black Cat, with the fan favorite feature* on that one. Doom was great. Oh, I really liked the Web of Spider-Man #1 black costume Spider-Man - that's one of my favorite items. It really captured the cover, and I loved that cover from back when I was a kid collecting comic books. Iron Man was beautiful, Ultimate Thor... I really liked them all!

*Editor's Note: Check out our Spotlight on the Black Cat for more about her features...

RTM: Which characters would you like to do that you haven't so far?

Damon: I would like to do figures based on the Supreme Power book, because they are just great designs and a great book. When X-Statix was still coming out I thought it was a great book and I thought there were some great characters in there. Colossus is my favorite X-Man, and I would love to do an Ultimate Colossus.

RTM: So how is the next figure after Days of Future Past coming along?

Damon: Awesome. The sculpture has been completed and it looks great!

Following Wolvie we're doing the Watcher. It will be the Byrne version and not the old, doughy guy who would weird you out if you caught him watching you.

RTM (laughs): You know, that is really creepy when you think about it. Having an old, bald fat guy in a toga watching you is just weird!

Damon (laughs): It's not much better when you have the lollipop head guy staring at you but I think it's better than the old sweaty fat guy. He's kind of like a fleshy Grimace coming to watch you.

But Phil's been working on the Watcher and he really likes it. He's really tearing it up.