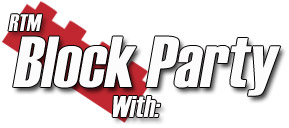 LEGO Batman Sets
There are things that are great alone and even better when together - things like peanut butter and chocolate or Salma Hayek and nudity. Add to that list the latest combination of LEGO bricks and Batman and you have another winner.

This first look at the LEGO Batman line is going to cover two of the initial four sets. The Batmobile: Two-Face's Escape and The Batman Dragster: Catwoman Pursuit will be in this Spotlight while the remaining sets - the Batboat: Hunt for Killer Croc and the Batwing: Joker's Aerial Assault - will have to wait for another day. The line will be expanding later this year with the huge Ultimate Collector's Series Batmobile and a large Batcave playset that is designed to integrate all the vehicles.

NOTE: On April 29th, 2006 on the Cartoon Network there will be a premier of a one minute LEGO Batman event. It will be at the start of Toonami, so mark your calendars and set your DVR or Tivo now!

LEGO was up front from the start with what was going to drive this line -vehicles and Batman. Every set includes at least one of each of these and something that has been often lacking in previous Batman lines - villains. All four of the initial sets have a unique member of Batman's Rogues Gallery, covering classics like the Joker and Two-Face, the relatively newer Killer Croc and the 'is she bad or isn't she' Catwoman.

For those who love or hate sticker decals, there's something for you here. LEGO has moved in recent years towards more stickers instead of bricks with printed designs on them as a cost-saving measure. The good side is you have more freedom to decorate your sets or original creations. The bad side is that you have to apply the stickers and so they aren't always straight. A bonus is that each set has a few extra Bat symbols on the decal sheets, perfect for adding to your monitor, other toys, or baby sister.

LEGO is one of the few companies that has maintained quality and compatibility for decades with their products. The LEGO bricks made in the 70's still work and fit in with the same ones being made today, and will for future products. The LEGO system is quite honestly a miracle of modern design and regardless of what VH1 may think, they are the best toys ever made.

The mini-figures used in LEGO sets are about two inches tall, and so they are smaller than many other mini figure lines, like Kubricks and Minimates. They do fit in with other LEGO lines, and so you still have access to a large library of characters in the same scale and style ranging from civilians and knights, to Spider-Man, Harry Potter and Luke Skywalker. The LEGO figures may not have as much articulation as some of the others, but they make up for it in solid construction.
The Batman line is using the flesh toned figures rather than the base yellow ones used in the City and Exo-Force lines. The flesh tones were added with the first NBA figures and then were adopted by the various movie properties that LEGO has acquired.
LEGO has been incorporating multiple expressions on some figures by hiding the alternate one under the hair, and they have continued it with the Batman line. The faces of select figures have two expressions that you can reveal once the masks are off, and Catwoman has a masked and unmasked expression. However, because there wasn't a hair piece included with her the unmasked face (though you can use any other LEGO hairpiece) and the Batman head looks a bit odd with the mask off as he has a white line that fills in where the mask eyeholes would be.
The Batmobile: Two-Face's Escape

At-A-Glance:
• The Batmobile: Two-Face's Escape
• Ages 7 and up
• Build Time - 30-60 minutes
• Cost - $30US • 394 Pieces
• Batman + LEGO = Awesome!



The one thing as signature about Batman as the pointed ears is his really cool car. The Batmobile has been part of the Batman mythos nearly from the start and helps define Batman as the true master of gadgets for every occasion. The car is styled after the Tim Burton movie Batmobile, and fittingly the Batman that comes with it is in the same style.

Just who does the black and gold clad figure represent? The adversary of Two-Face would indicate Val Kilmer from Batman Forever, but his lack of expressions makes him a dead ringer for George Clooney in Batman Forever Bad. The real money is on Michael Keaton as the best of the movie Batmen, and the one who not only had the car chicks dug, but the movies everyone dug.

One cool aspect of this set is that the bricks are pre-segregated into several numbered bags. These bags are noted in the instructions to make it easier to find the right bricks, so don't just tear open all the bags first as it will lengthen the construction time. And speaking of that, it should take from thirty to sixty minutes to build everything in this set, longer for younger children and possibly longer for squinty-eyed adults.

The Batmobile itself is designed for play first, and has a launching missile in the front powered by springs and the wheels spin. The missile comes into play not only to hit any target you can devise, but with Two-Face's truck - more on that later. The hatch opens forward to let Batman in and out, and there is a trunk section for storage of various Bat-gadgets.

These gadgets include three throwing Batarangs, two with an open center that are perfect for attaching a string to climb up or repel down. Last is a cradle for Batman to hang on and can be used with some string for a zipline.

For the guest starring villain in this set we have Two-Face, the former District Attorney of Gotham City who went off the deep end after getting acid splashed on half his face. The result is that his psyche was splintered and now he is obsessed with the number two. He plans his crimes around this (Tuesday is his favorite day) and makes his decisions with the help of a two-headed silver dollar that is scarred on one side and clean on the other.

Two-Face is done in a comics style (not from Batman Forever) representing his classic look and he even comes with a silver pip for his scarred silver dollar. You can decide which side is the good or bad one. He's also got a machine gun with him, and a helpful (and also armed) henchman with a coordinated outfit to help on crimes. He needed a second and this guy had Tuesday night free!

Not to be outdone by Batman, Two-Face has his own means of transportation. He's got a two-tone armored truck to get around town, embellished with his own mint mark of a scarred and unscarred coin on it (in LEGO style). The truck has room up front for his henchman driver and a nice perch on top so he can take shots at anyone pursuing.

The bad news about the truck is that the back of it is part of a levered system, so if Batman hits the back of it just right it will flip Two-Face right off the truck (and into oncoming traffic). The rumor is that Batman gets targeting help from OnStar, though it hasn't been proven yet!

The last part of this set is a traffic barricade with an arm that you can raise and lower to let people through. As you might have guessed, neither Two-Face nor Batman are guys who like to wait for their turn. It can be used to re-enact the toll booth scene from Blazing Saddles, though!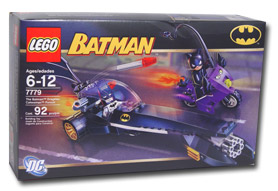 The Batman Dragster: Catwoman Pursuit

At-A-Glance:
• The Batman Dragster: Catwoman Pursuit
• Ages 6 and up
• Build Time - 10-20 minutes
• Cost - $10US • 92 Pieces
• The Cat's Meow!



What do you do when the Batmobile is just too slow to get you where you need to be? You hop into the Bat-Dragster instead! It's a good thing Batman wears a mask, because a few minutes in this hot rod and his hair would be toast!

The Dragster is just what you would expect, a sleek machine with a bat wing tail on the back. Inside you'll find Batman and this dragster has a couple of things you won't find elsewhere. The front wheel can rotate allowing ultra-sharp turns and has a rotating laser cannon to say hello with his not-so-little friend.

The canopy is hinged to lift backward and let Batman get out for underwear changes. There are also a pair of missiles that you have to manually launch - they just sit in a ring on the back of the vehicle. You really have to wonder how he got insurance on this thing!

The Batman figure included with this set is different than the movie version with the Batmobile. This set and the other two initial releases have Batman in a modern grey and black costume. This is the current Jim Lee Batman style, so you can have multiple era Batman figures which is a nice touch.

Each set has a different villain, and Catwoman is the guest star in this set. She's in the same modern comics style as Batman with her slinky (yet blocky) black suit. She has two expressions (on either side of her head) though she doesn't come with any extra hair when her mask is off to take advantage of the extra face. The unmasked expression doesn't line up with the mask either, so you'll want to find some hair from another LEGO set if you want to go with the unmasked look. She also has a whip when you get fresh, or ask very carefully for it!

To get around town, she's got a fuel-efficient and easy to park motorcycle. It is in purple top go with her purple passion, but the wheels turn and it even has a spot to keep her whip when she's out on the town. It may only have two wheels but it does have a small stand built in to keep her upright while being pursued.

The question is, like with a dog chasing a car or Wiley Coyote chasing the Roadrunner - what will Batman do if he ever does catch her? She might need her whip...

The real question for the LEGO batman line isn't which sets to buy, but where to find space for them all!

More pictures of the Batmobile

More pictures of Two-Face's Armored Truck (and the Batmobile)

Next Block Party - you're going to need a bigger boat...

Where to buy LEGO Batman sets: The Batmobile set retails for around $30 and the Catwoman Pursuit set retails for around $10. Both are available directly from LEGO in the Batman section of their Shop at Home web site and (starting in April 2006) should also be widely available in the LEGO section of retail stores such as Toys'R'Us, Target, and Wal-Mart, as well as various online toy retailers such as Amazon.com and RTM sponsor Big Bad Toy Store. (Be sure to check the other RTM sponsors, listed on the Shop Center.)