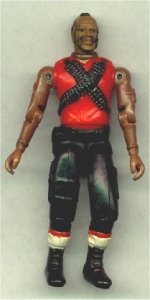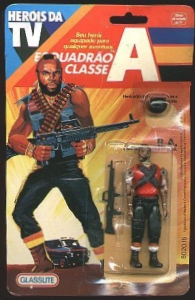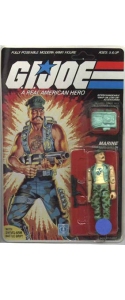 Glasslite released B.A. in 1984 as part of its Esquadrao Classe A (A-Team) series
Rubber-band construction
Includes a rifle (also included with Hannibal, and a black helmet
Other than the torso, this figure is molded the same as the Galoob U.S. release of B.A.
This figure's paint scheme is much more true to the Bad Attitude, though, even down to his double-layer of socks
Dave points out that the card art for the Glasslite B.A. seems to be inspired by the card art on the GI Joe Gung Ho figure.
Image credits:
Carded GI Joe images used with permission from YoJoe.com
---
[3 3/4-inch Archives] [A-Team (Galoob)] [A-Team (Glasslite)] [Miami Vice]