---
Oktomica Entertainment, the brainchild of publisher John Nekvapil and Editor-in-Chief Casey Lau, is a new face in the comic book and collectibles market.
Oktomica's first comic book release was Virtex, which tells the tale of a lone lawman in a world where time has merged, called The Madlands, where dinosaurs are poached by ninjas, and knights of the round table battle it out with World War III infantrymen! Virtex is charged with hunting down 8 time-amalgamated outlaws, and bring them to justice!
Virtex, the action figure, will be six inches tall (nine inches tall standing on the base), features 9 points of articulation (neck, shoulders, elbows, wrists and upper legs), comes complete with two guns and has an action feature reminiscent of Kenner's classic Super Powers line, where you squeeze the figures legs together to activate his quickdraw action! Virtex also features a light up eye - simulating his red optic scanner.
Oktomica has ambitious plans for it's toy releases. Virtex creator and writer Casey Lau says, "We think this will introduce a new level of quality and play value for independent figures and up the ante for future action figures. Todd McFarlane did it in the sculpting, now we're doing it with the playability by adding in numerous add-ons that perhaps for the first time, actually go with the character."
Virtex comes packaging similar to the Star Wars Epic Force line, featuring the figure on a rotating base with a button to activate the quickdraw action and another button on the base with 6 different shotgun sound effects!
The figure is expected to retail for $15.95 and will be solicited in the March issue of Previews, and shipping in May 1999. Virtex will be available through comic, hobby and online toy stores.
Raving Toy Maniac's Independent Toy Newswire is proud to bring to our readers a special advanced look at Oktomica's Virtex action figure. We will be following the progress of the figure from prototype to production to packaging, all the way up until it's release.
Also, as the Virtex action figure nears release we will be holding a trivia contest to win Virtex figures and comic books from Oktomica Entertainment. Stay tuned for all the details!
---
STAGE 1: DESIGN
---
The control art, seen below, was done by series artist Kano. Much care was take to infuse the same dynamic style seen in the Virtex comic book into the action figure. Several initial designs are done before a final design for the action figure is settled on. Oktomica is striving for a blending of dynamism and playability in their first action figure product.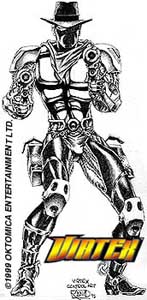 ---
STAGE TWO: SCULPTING
---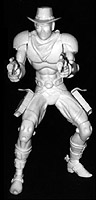 Once the control art is approved, work can begin on the initial sculpt. The sculptor then uses the control art as a guide, adding his own touch and flair while retaining the look set down in the control art. As you can see, the sculptor did an extraordinary job bringing all the detail in Kano's two dimensional control art into three dimensions.

---
STAGE THREE: PAINTED PROTOTYPE
---
Once a sculpt is completed and approved, it is painted to give an even better idea of what the final production piece will look like. Virtex looks like he just leapt right off the page of his critically-acclaimed comic book!
---
COMING SOON: PRODUCTION SAMPLE & PACKAGE ART
---
Back to Independent Toy Newswire

Back to Main News Page