Stone Cold: Internet-Active Electronic Figure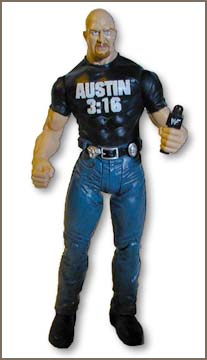 Jakks Interactive, a division of Jakks Pacific, recently released the Stone Cold Internet-Active Electronic Figure. This innovative 12" action figure actually hooks up to a PC via a serial cable and allows the user to customize phrases, or download them from the WWFWired.com site, to load into the figure.

Whereas most talking figures are limited to only a couple of phrases, this figure (which has a 45 second capacity) allows for new Stone Cold dialogue over and over again.
To top things off, it's just a cool figure, too. The figure itself comes on a removable base, and features full-articulation including knee and elbow joints (except for the left elbow, a concession for the internal wiring).
A cable connects from the base of the microphone in Stone Cold's hand to a serial port on the user's PC. The software that comes with the figure contains a variety of Rant Pakks which contain several phrases each which the user can string together and customize with the names of other WWF Superstars.

Interactive Stone Cold Steve Austin
Made By:
Jakks Interactive
Height:
12"
Articulation:
10 points
Accessories:
Comes with CD containing software (PC only), and cable to connect figure to computer
What Makes It Cool?
Why? 'Cause Stone Cold Said So! Seriously, it's the internet capabilities of this figure that make it fun. Tired of what the figure says this week? All you have to do is make up your own rant pack, or download actually Stone Cold dialogue and your figure instantly has a whole new phrasebook ready to talk trash and stomp mudholes.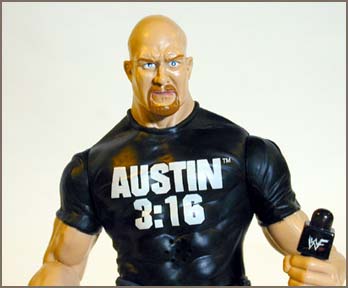 Back to RTM Spotlight