Bela Lugosi as Dracula by Flatt World Figures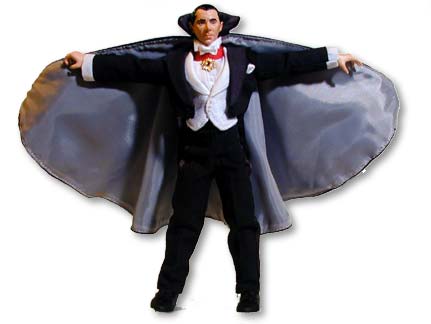 Bela Lugosi as Dracula is the first product released from one of toy industries newest companies, Flatt World Figures. Flatt World Figures was started by Charlee Flatt, who was well known in the toy collecting community as a master customizer. Charlee's work, which was based on the classic Mego 8" style, was showcased by publications such as ToyFare and Tomarts Action Figure Digest.
Charlee started a company with the goal of making highly detailed, highly poseable collectors-oriented figures - poseable art - and went about the business of obtaining licenses. Bela Lugosi as Dracula was their first. The much anticipated figure was finally released in the Summer of 1999 and it is, in a word, amazing.
Bela Lugosi as Dracula
Made By:
Flatt World Figures
Height:
7-7/8"
Articulation:
24 points
Accessories:
Coffin with hinged lid, Bat, Candlestick, removable cape, biocard
What Makes It Cool?
Gestalt at it's best, baby! It's the total package that makes this figure so cool. The combination of a great sculpt with a dead-on likeness, detailed cloth costume (11 different fabrics were used for the costume!), and some of the best articulation in the business all come together to make Bela a stand out addition to any collection.
The detail of the sculpt is stunning, as is the likeness to Bela Lugosi, as can be clearly seen in the close up pictures below. Flatt World not only used vintage photographs as reference, but also an authentic lifemask of Lugosi himself.
To add to the authenticity of the Bela Lugosi as Dracula the figure comes complete with a coffin, scaled to fit the figure, a bat and a creepily-styled candle stick.
Back to RTM Spotlight