Recipes - Marvel Legends Golden Age Series 2 Two Packs
Marvel Legends Golden Age Series 2 Two Packs
Created by CRobTheCreator ([email protected]).
Web site: www.facebook.com/pages/CRobTheCreator/146692535406485
Recipes: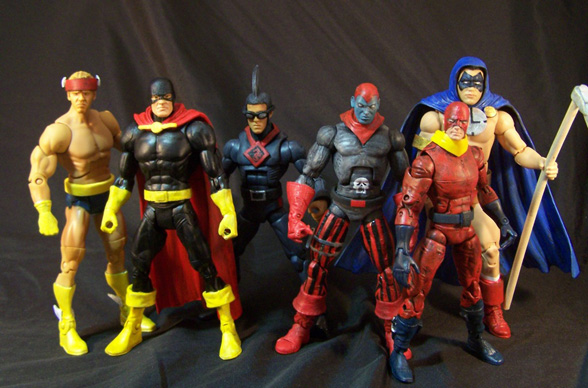 Father Time:
WWE Legends Terry Funk body with WWE RA Randy Orton head, craft foam, and a ML Dr. Doom Cloak. Scythe as made from a Wooden dowel and fodder.
Captain Terror:
ML SHIELD agent head with Sculpey III, ML Nova forearms, and ML Longshot body with Sculpey III. Bandana is from WWE RA figure
The Destroyer:
ML Legends Face Off Punisher Body/SHIEID Agent with craft foam, ML Captain America hands and feet, and X-men classics archangel head.
The Fin:
TNA Sonja Dutt head with Sculpey III and craft foam, Ml Nova body with craft foam, and Dark Knight Movie Masters Batman arms with DCUC hands
Hurricane:
DCUC Samurai with Sculpey III and Craft foam and TNA Christian Cage Head.
Black Marvel:
DCUC Classics Batman with DCUC Hawkman head and boots from Dr. Midnite.